Naming the Dawn (The Africa List) (Hardcover)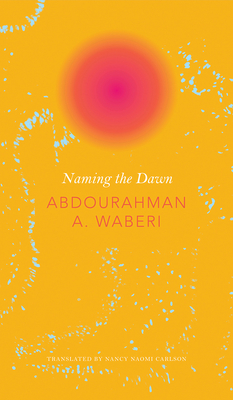 Description
---
The poems in this new volume by Abdourahman A. Waberi are introspective and inquisitive, reflecting a deep spiritual bond—with words, with the history of Islam and its great poets, with the landscapes those poets walked, among which Waberi grew up. The sage yearns here for the simplicity of each individual moment to somehow become eternal, for the histories and people that are part of him—his mother, his wife, his unborn child, the sacred texts that ground his being—to come together harmoniously within him, and to emerge through his words. Lyrical and personal, but with powerful historical and cultural resonances, these poems are the work of a master at the height of his powers.
 
About the Author
---
Abdourahman A. Waberi, from Djibouti, is a prize-winning novelist, essayist, poet, and professor of Francophone literature at George Washington University.  
 
Nancy Naomi Carlson is a poet, translator, and editor based in Virginia. A recipient of a literature translation fellowship from the National Endowment for the Arts, she is also a senior translation editor for Tupelo Quarterly.
 
Praise For…
---
"With Naming the Dawn, Abdourahman A. Waberi delivers a magnificent poetic art, where the deciphering of the poem—the patient rhythm of reading, listening to signs—is a discovery of self and sacred texts, and ultimately, of the religious spirit . . . Mingling indiscriminately poetic writing and reading of the sacred texts—of the Quran—the author proposes here a formidable plea in favor of tolerance and openness."
— Elera Bertho, Diacritick, on the French edition