Dinner with DiMaggio: Memories of An American Hero (Hardcover)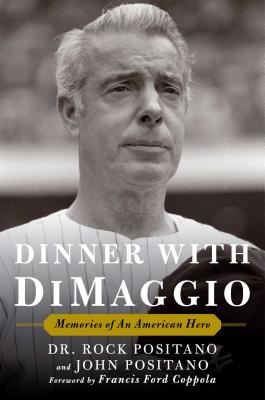 Description
---
The real Joe DiMaggio, remembered by one of the few who really knew the man behind the legend—candid and little-known stories about baseball icons from Ted Williams, Lou Gehrig, and his Yankees teammates on the field to Marilyn Monroe, Frank Sinatra, and others off the field. As told by Dr. Rock Positano, DiMaggio's closest confidante in New York during the final years of his life, Dinner with DiMaggio is an intimate portrait of one of America's most enduring heroes.

This memoir of a decade-long friendship reveals the very private DiMaggio as he really was—sometimes demanding, sometimes big-hearted, always impeccable, loyal, and a true stand-up guy—while serving up illuminating stories and rare insights about the people in his life, including his teammates, Muhammad Ali, Sandy Koufax, Woody Allen, and more.

In 1990, Dr. Rock Positano, the thirty-two-year-old foot and ankle specialist, was introduced to DiMaggio, the pair brought together by a career-ending heel spur injury. Though Dr. Positano was forty years younger, an unlikely friendship developed after the doctor successfully treated the baseball champ's heel. At the start, Joe mentored Rock but came to rely on his young friend to show him a good time in New York, the town that made him a legend. In time, the famously reserved DiMaggio opened up to Dr. Positano and talked about his joys, his disappointments, and his sorrows as he reflected on his extraordinary life. The stories and experiences shared with Dr. Positano comprise an intimate portrait of one of the great stars of baseball and icon of the twentieth century.
About the Author
---
Dr. Rock G. Positano is the Director of the Non-Surgical Foot and Ankle Service at the Hospital for Special Surgery in New York City, where he has been on staff since 1991. He graduated from Yale University School of Medicine, where his thesis on foot health was approved, with Honors and Distinction. He is a clinical assistant professor at Weill Cornell Medical College. He is internationally known for his non-surgical approach for the treatment of foot disorders. Visit him at HSS.edu/Physicians_Positano-Rock.asp. Dinner with DiMaggio is his first book.

John A. Positano, Esq., is associate producer of The Joe Piscopo Show, which airs daily on AM970, and the weekly Live From Downtown New York City. He graduated from New York Law School. In addition to arguing federal cases, he has written articles on the military, law, and surfing for the LI Pulse, Huffington Post, and Daily News (New York). He lives near Stony Brook, New York.
Praise For…
---
"Pries open Joltin' Joe's perpetually buttoned-up privacy. . . . A rare, intimate portrait of a man so audacious that he left Marilyn Monroe."
— Sam Roberts

"His baseball accomplishments, impressive and historic as they are, do not alone explain why DiMaggio's name still resonates as it does. His importance is connected to a particular place and time in the history of the game, and the country. Hemingway referenced DiMaggio. So did Paul Simon. A line from the early 40's song 'Joltin' Joe DiMaggio' by the Les Brown Orchestra goes like this: He lives in baseball's Hall of Fame, he got there blow-by-blow, our kids will tell their kids his name, Joltin' Joe DiMaggio. Turns out that was true."
— Bob Costas

"Readers do not have to be baseball fans to be captivated by this memoir, which explores such universal themes as friendship, celebrity, aging, and mortality."

"An unpretentious but nonetheless lyrical, memoiristic paean to a relationship that was gradually built with mutual effort and escalating warmth. . . . This is a book about conviviality . . . but it is also a book with a searching and often melancholic heart that engages fully with love, loss, estrangement, disappointment, decline and the nature of success and legacy. . . . There is much to cherish in this book."
— Adam Hanft

"So many special things about Joe DiMaggio are revealed by this book: his love of children, his contempt of pretense, and his iconic place in American history, all brought forth here by his closest friend in New York, Dr. Rock Positano. Joe was quiet, not silent, about the pivotal events of the twentieth century, and he shared them with Dr. Positano: Marilyn, the Kennedys, Frank Sinatra, and so many fascinating anecdotes add flesh to the bare bones of this iconic American. This is an important book because Joe is the hero we need in these times: Joe, as Dr. Positano shows, did not compromise his principles for political correctness, hurt feelings or the favor of the crowd. He was a true American original."
— Arianna Huffington

"Positano renders a wholly human portrait of an American icon navigating his way through an adoring yet relentlessly demanding public."

"Joe Di Maggio brought a unique excitement to New York City, his adopted home town, which extended beyond baseball. Joe's great friend Dr. Rock Positano conveys the excitement of DiMaggio's reign beautifully in this book. It is a thrill to read from cover to cover."
— David N. Dinkins, 106th Mayor, City of New York

"I almost felt I was at the dinner table with Rock and DiMaggio at their New York haunts. . . . Dinner With DiMaggio is a great depiction of a man and legend. A must read!"
— Congressman Peter King

"Joe DiMaggio and Rock Positano were fortunate to have found each other. A genuine hero in need of a genuine healer. Each an expert in his field. Rock's professional skills matched by his kindness and generosity of spirit. There will never be another Joe. But we are all fortunate to have the equally singular Rock still exercising his skills as both doctor and friend."
— Frank Langella

"Dr. Rock Positano is not only a phenomenally gifted doctor but he is a hugely empathetic companion who understands and treats the whole person, not just the injury. Joe DiMaggio found in the good doctor an Italian-American brother and a confidant. The result is this strikingly intimate portrait of a man who has often seemed as private and remote as he is heroic. Paul Simon famously asked, 'Where have you gone, Joe DiMaggio?' We have the answer now: You can find him right here."
— Anthony DeCurtis, Contributing Editor, Rolling Stone

"This book summarizes so many of the vibrant principles I espouse . . . the importance of being you . . . the critical need of sharing your 'authentic self' undiluted by worry or criticism. I am pleased that this very genuine American hero was also a strong believer in being himself . . . Joe DiMaggio . . . without fail . . . and with no worries. . . ."
— Tony Robbins, author of UNSHAKEABLE

"Joe DiMaggio loved and trusted Rock for all the reason so many of us do: He is a friend who never shies away from your battles, but joins them, instead. All of us face adversity in life. Having Dr. Positano as a friend is like having a thousand friends. DiMaggio recognized his ability to make people feel secure and safe from the challenges and stress of everyday life. Those of us, like Joe DiMaggio, who have Rock by our sides walk a little steadier, in more ways than one."
— Keith Ablow, M.D., Fox News Network

"Baseball fans will savor DiMaggio's views about Ted Williams, Pete Rose, and many other famous players."

"The narrative provides wonderful glimpses of DiMaggio's integrity, kindness, and sensitivity, portraying him as a complicated man who jealously guarded his image."