Only Killers and Thieves by Paul Howarth NOTE: Meeting Online
Evening Fiction Book Group meets 2nd Tuesday of each month at 7 p.m. Meeting Online. Please email bookgroups@politics-prose.com to sign up for online info.
The oldest of P&P's store sponsored book groups, it was begun by Carla Cohen shortly after the store opened over 30 years ago, when we were still located in the small space across the street. A handful of present members have been coming all these years.
It's a pretty large group, usually between 20 and 30 people. I refer to it sometimes as a "no guilt book group." It's not going to fall apart because you couldn't make it one month. We read a variety of authors and try to represent the diversity of countries and cultures. Some books we've enjoyed discussing include: The In-Between World of Vikram Lall by M.G. Vassanji, Sister of My Heart by Chitra Banerjee Divakaruni, Housekeeping by Marilynne Robinson, Uncle Tom's Cabin by Harriet Beecher Stowe, and Light in August by William Faulkner.
Some books have worked better than others, but the group never fails to manage a lively discussion. If you enjoy reading fiction and like to be surprised by great stories and authors you haven't encountered before, this might be your group.
- Mark LaFramboise <Mark@politics-prose.com>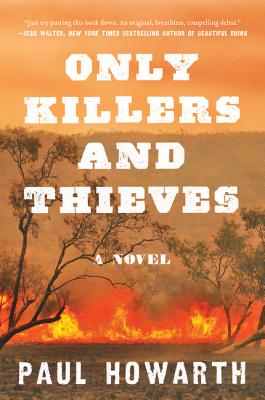 $16.99
In Stock—Click for Locations
February 2018 Indie Next List
---
"An unforgettable first line propels this debut novel about two brothers on the Australian frontier who are drawn into a world of conflict and revenge that tests their beliefs and morals to the ultimate degree. The age-old conflict between settlers and indigenous people is played out on the southern continent much as it was in the American West and Russian East. As the brothers become deeply embroiled, they enter a savage and unforgiving landscape, both physically and culturally, and it becomes the ultimate test of their growth and humanity. This is a work that is as unrelenting as the world it describes and will long linger with the reader."
— Bill Cusumano, Square Books, Oxford, MS
Description
---
Barnes & Noble Discover Award Winner
Two brothers are exposed to the brutal realities of life and the seductive cruelty of power in this riveting debut novel—a story of savagery and race, injustice and honor, set in the untamed frontier of 1880s Australia—reminiscent of Philipp Meyer's The Son and the novels of Cormac McCarthy.
An epic tale of revenge and survival, Only Killers and Thieves is a gripping and utterly transporting debut, bringing to vivid life a colonial Australia that bears a striking resemblance to the American Wild West in its formative years.
It is 1885, and a crippling drought threatens to ruin the McBride family. Their land is parched, their cattle starving. When the rain finally comes, it is a miracle that renews their hope for survival. But returning home from an afternoon swimming at a remote waterhole filled by the downpour, fourteen-year-old Tommy and sixteen-year-old Billy meet with a shocking tragedy.
Thirsting for vengeance against the man they believe has wronged them—their former Aboriginal stockman—the distraught brothers turn to the ruthless and cunning John Sullivan, the wealthiest landowner in the region and their father's former employer. Sullivan gathers a posse led by the dangerous and fascinating Inspector Edmund Noone and his Queensland Native Police, an infamous arm of British colonial power charged with the "dispersal" of indigenous Australians to "protect" white settler rights. As they ride across the barren outback in pursuit, their harsh and horrifying journey will have a devastating impact on Tommy, tormenting him for the rest of his life—and will hold enduring consequences for a young country struggling to come into its own.
Recreating a period of Australian and British history as evocative and violent as the American frontier era, Only Killers and Thieves is an unforgettable story of family, guilt, empire, race, manhood, and faith that combines the insightfulness of Philipp Meyer's The Son, the atmospheric beauty of Amanda Coplin's The Orchardist, and the raw storytelling power of Ian McGuire's The North Water.
About the Author
---
Paul Howarth is a British-Australian author and former lawyer who holds an MA in creative writing from University of East Anglia, where he was awarded the Malcolm Bradbury Scholarship. In 2018 his debut novel, Only Killers and Thieves, was published to international acclaim, winning the Barnes & Noble Discover Award for best fiction, and appearing on numerous other awards and books of the year lists.
Praise For…
---
"Only Killers and Thieves is a powerful debut. Paul Howarth brings early Australia to life, bloody warts and all, in an epic tale of murder, revenge, and colonial oppression, with very little room for redemption. The story and his words will stay with you, long after you have finished the book."
— New York Review of Books

"Prose like that arrives direct from Cormac McCarthy's dusty Southwest…Howarth's spotlights how arbitrary frontier justice can be. But he also asks: How much less arbitrary is a purportedly civilized society?"
— Washington Post

"An outstanding debut…a powerful novel of crimes in a bleak landscape."
— Sunday Times (UK), Historical Fiction Book of the Month

"They're hard to find, books that grab you by the throat and won't let go — addictive novels that make your heart race. Only Killers and Thieves tops that category…There's much to relish in this page turner, descriptive writing, a plot that wrings you out, and characters you grow to hate, evil and racism personified…This literary, hard-hitter brings to life a time of mistrust and violence in Australia when whites tried to wipe out indigenous Australians. Only Killers and Thieves is brilliant but brutal."
— The Missourian

"Howarth's stunning debut has shades of Cormac McCarthy and Patrick deWitt...a book that grips from the outset and entertains even as it educates us about an appalling part of Australia's history. Epic in scope, Only Killers and Thieves is a study in morality in a land where white vigilantism has never seemed more depraved."
— The Irish Times

"Hugely impressive…reminiscent of Peter Carey."
— Irish Examiner

"A must-read for anyone who craves pictorially descriptive writing, story-telling with palpable tension and characters so finely drawn they leap off the pages…Howarth has captured the trappings of America's Wild West, only here the white vigilantes' victims are Australia's aboriginal natives. Otherwise the parallels are striking, from ethnic hatred, violent attacks and torture to the bloodthirstiness of ruthless hunters as they move through an unrelenting, sun-parched landscape bent on extermination. Against this stark and gory backdrop Howarth crafts nuanced, insightful alterations in the boys' characters…No matter how driven you are (and you will be), resist the temptation to read Only Killers and Thieves straight through. Howarth's writing deserves thoughtful savoring."
— Newark Star-Ledger-NJ.com

"Howarth's impressive debut is a Wild West saga transported to 19th-century Queensland, Australian. The story deals unflinchingly with the brutality of Australian rule…but the heart of the story is the complicated relationship between the brothers...While this book has a historical point to make, it also works as a suspenseful mystery and a resonant bildungsroman."
— Kirkus Reviews (starred review)

"Powerful debut…the novel feels like a modern Western along the lines of Cormac McCarthy's All the Pretty Horses. Howarth's narrative is almost cinematic…U.S. readers will make the connection with our country's oppression of Native Americans and gain an understanding of the fundamental racism of both former British colonies…Howarth is a novelist to watch."
— Library Journal, starred review

"A gripping novel about conflict in the Australian outback at the turn of the century; beautifully done."
— Paulette Jiles, New York Times Bestselling Author of News of the World, National Book Award Finalist

"I couldn't put Only Killers and Thieves down. It does what great Westerns do, it drops you inside the ugliness and chaos of Australian frontier life, it educates and horrifies, but also it entertains. Howarth's debut is a powerhouse page turner."         
— Willy Vlautin, author of Lean on Pete

"… visceral yet elegantly written…"     
— Library Journal

"Devastating and impressive debut...Howarth skillfully uses the fraying relationship between the two brothers—Billy embraces vigilantism with vengeful zeal, while Tommy is revolted by both the carnage and its effect on his brother—to illustrate the moral issues at the heart of his story. The narrative is empowered further by his searing descriptions of the outback, a drought-ridden landscape of desiccation and death that provides a backdrop as bleak and merciless as the characters who move against it."
— Publishers Weekly

"Howarth manages to infuse the old tropes with a depth of emotion and moral complication that will stay with readers long after closing the book."
— BookPage

"Rich in character and period atmosphere, this effective blend of family saga and historical mystery will please fans of Jeffrey Archer and Wilbur Smith."
— Booklist

"Visceral…The imagery the author uses is both brutal and beautiful…The effects of Tommy's actions haunt him long after the deeds are done, just as this story lingers in the mind long after the book is closed."
— Shelf Awareness

"Everywhere alive with vivid evocations of a landscape as punishing as it is beautiful and vibrant characters who would be just as at home in Blood Meridian or Butcher's Crossing, Only Killers and Thieves compels and convinces from the start. This is a thrilling book and Paul Howarth a writer of tremendous talent."
— Laird Hunt, author of The Evening

"A gripping and vivid novel, Paul Howarth brings early Queensland to life so well that you can practically smell the horses. Paul Howarth is a remarkable new talent."
— John Boyne, author of The Heart's Invisible Furies

"Only Killers and Thieves is a historical novel, but the savagery it depicts is still a matter to be reckoned with in contemporary Australia where the traumas of genocide continue to resonate from generation to generation. This is an impressive debut."
— Tim Winton, author of Breath and Eyrie

"Just try putting this book down. An original, breathless, compelling debut."
— Jess Walters, author of Beautiful Ruins