RAILROADED, by White NOTE: Meeting Online
Thursday, May 27, 7:00 pm
The Fascinating History Book Group is led by P&P's Shane Cagney (scagney@politics-prose.com) and meets the fourth Thursday of each month at 7 p.m.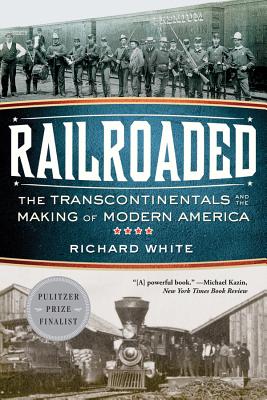 $19.95
In Stock—Click for Locations
Description
---
A Finalist for the Pulitzer Prize: "A powerful book, crowded with telling details and shrewd observations."  —Michael Kazin, New York Times Book Review
This original, deeply researched history shows the transcontinentals to be pivotal actors in the making of modern America. But the triumphal myths of the golden spike, robber barons larger than life, and an innovative capitalism all die here. Instead we have a new vision of the Gilded Age, often darkly funny, that shows history to be rooted in failure as well as success.
About the Author
---
Richard White is the Margaret Byrne Professor Emeritus of American History at Stanford University. He is the author of many acclaimed books in American western and environmental history, including Railroaded: The Transcontinentals and the Making of Modern America, winner of the Los Angeles Times Book Prize, the Parkman Prize, and a finalist for the Pulitzer Prize.
Praise For…
---
Required reading for anyone interested in the history of American railroading…This is an exciting story and well told.
— John Steele Gordon - Wall Street Journal

A model of narrative
skill and [an] insightful reinterpretation of the Gilded Age. It is easily the
best business history I have read.
— Donald Worster - Slate

A scathing and wonderful new book. [Railroaded] will entertain and outrage readers.

— Buzzy Jackson - Boston Globe

An acute analysis that in failure came success and in many ways the map of the nation.
— Scott Martelle - Washington Post

Imaginative, iconoclastic, immensely informative and mordantly funny.
— Glenn C. Altschuler - Pittsburgh Post-Gazette