ACCIDENTALLY ENGAGED by Farah Heron
The Romance Book Group meets on the second Sunday of each month at 6 p.m. The book group is led by Darbi Bradley, and meeitng online. Darbi can be reached at andrea.m.bradley@gmail.com.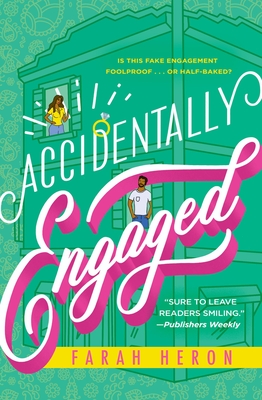 $15.99
In Stock—Click for Locations
Description
---
A "delectable" romantic comedy about a woman who fakes an engagement to the boy next door to enter a couples cooking contest (Farrah Rochon, USA Today bestselling author). 

When it comes to bread, Reena Manji knows exactly what she's doing. She treats her sourdough starters like (somewhat unruly) children. But when it comes to Reena's actual family—and their constant meddling in her life—well, that recipe always ends in disaster.

Now Reena's parents have found her yet another potential Good Muslim Husband. This one has the body of Captain America, a delicious British accent, and lives right across the hall. He's the perfect, mouthwatering temptation . . . and completely ruined by the unwelcome side dish of parental interference.

Reena refuses to marry anyone who works for her father. She won't be attracted to Nadim's sweet charm or gorgeous lopsided smile. That is, until the baking opportunity of a lifetime presents itself: a couples' cooking competition with the prize of her dreams. Reena will do anything to win—even asking Nadim to pretend they're engaged. But when it comes to love, baking your bread doesn't always mean you get to eat it too.

Featured in Buzzfeed, Brit & Co, PopSugar, Oprah.com, Goodreads, The Nerd Daily and Frolic 
About the Author
---
After a childhood raised on Bollywood, Monty Python, and Jane Austen, Farah Heron wove complicated story arcs and uplifting happily ever afters in her daydreams while pursuing careers in human resources and psychology. She started writing those stories down a few years ago, and never looked back. She writes romantic comedies and women's fiction full of huge South Asian families, delectable food, and most importantly, brown people falling stupidly in love. She lives in Toronto with her husband, two children, and a rabbit named Strawberry. She is considering getting a cat.
Praise For…
---
"Reena and Nadim have electric chemistry, buoyed by Heron's crackling banter. But it's their tenderness, for each other and the food they adore, that lends the comedy some beautiful heft. ... Accidentally Engaged is voraciously readable…fresh, warm, soft in all the right places…both its comedic and emotional moments sing. We dare readers not to devour it. Grade: A."—Entertainment Weekly

"Accidentally Engaged is an engaging read with authentic characters who continue to surprise you." 
 —USA Today

"Farah Heron spins a delectable tale brimming with wit, emotion, and deliciously sexy banter that will leave readers hungry for more." —Farrah Rochon, author of The Boyfriend Project

"A mouthwatering romantic comedy... This book is undoubtedly what Heron would pull out during the Showstopper Challenge on a literary version of The Great British Bake Off."—BookPage

"Full of heart and humor. …Farah Heron balances the ingredients for a charming romance: a heroine finding her way, a swoonworthy love, a complicated but loving family and a happily ever after."—Shelf Awareness

"Heron delivers an engaging romantic comedy that explores culture, family expectations, and personal growth."—Library Journal

"A-. Accidentally Engaged has an optimism that I couldn't help but carry with me past the end of the book."—Smart Bitches Trashy Books

"Farah Heron writes with the keen eye of a satirist and the big heart of a romantic."—Jenny Holiday, author of Paradise Cove

"Farah Heron has written a feast of a book! Accidentally Engaged gives us a banquet to enjoy, from the tantalizing cooking competition, the delightful breadmaking, the delicious family dynamics, to the sumptuous romance. It's a must-read."—Tif Marcelo, author of The Key to Happily Ever After

"Equally sweet and spicy, this is sure to leave readers smiling."—Publishers Weekly

"Heron writes a compelling story . . . [that] will appeal to readers looking for complex family dramas and sumptuous descriptions of food and cooking."—Kirkus

"A fantastic romance with sassy characters, delicious food, Indian culture, a meddling family, and a sexy hero with a British accent."—Living My Best Book Life