Is Sex Necessary?: Or Why You Feel the Way You Do (Paperback)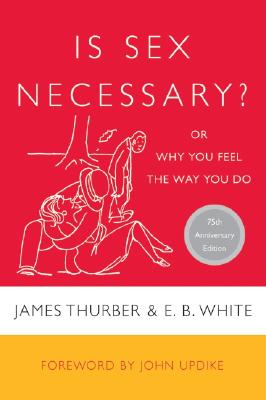 $14.99

Not On Our Shelves—Ships in 1-5 Days
(This book cannot be returned.)
Description
---
"If this book isn't a minor classic—and one uses the term 'minor' only because it is so gorgeously funny and not ponderous enough to be a major—well, one doesn't know what book is. Let's compromise and just call it a classic."  --Will Cuppy, New York Herald Tribune
The first book of prose published by either James Thurber or E. B. White, Is Sex Necessary? combines the humor and genius of both authors to examine those great mysteries of life—romance, love, and marriage. A masterpiece of drollery, this 75th Anniversary Edition stands the test of time with its sidesplitting spoof of men, women, and psychologists; more than fifty funny illustrations by Thurber; and a foreword by John Updike.
About the Author
---
James Thurber was born in Columbus, Ohio, in 1894. Famous for his humorous writings and illustrations, he was a staff member of The New Yorker for more than thirty years. He died in 1961.
E. B. White, the author of such beloved classics as Charlotte's Web, Stuart Little, and The Trumpet of the Swan, was born in Mount Vernon, New York. He graduated from Cornell University in 1921 and, five or six years later, joined the staff of The New Yorker magazine, then in its infancy. He died on October 1, 1985, and was survived by his son and three grandchildren.
Mr. White's essays have appeared in Harper's magazine, and some of his other books are: One Man's Meat, The Second Tree from the Corner, Letters of E. B. White, Essays of E. B. White, and Poems and Sketches of E. B. White. He won countless awards, including the 1971 National Medal for Literature and the Laura Ingalls Wilder Award, which commended him for making a "substantial and lasting contribution to literature for children."
During his lifetime, many young readers asked Mr. White if his stories were true. In a letter written to be sent to his fans, he answered, "No, they are imaginary tales . . . But real life is only one kind of life—there is also the life of the imagination."
Praise For…
---
"If this book isn't a minor classic--and one uses the term 'minor' only because it is so gorgeously funny and not ponderous enough to be a major--well, one doesn't know what book is. Let's compromise and just call it a classic."
— Will Cuppy, New York Herald Tribune

"One of the silliest books in years, and perfectly lovely. It left this reviewer weak, partially paralyzed, with a writhen face streaming with tears."
— Saturday Review of Literature

"The joint authors do marvelous figure skating over the thinnest of ice without even fracturing an air bubble. They spoof all the modern psychological and sociological discussions of sex with inexhaustible ingenuity, good humor and good taste."
— New York Herald Tribune