Out of the Ballpark (Hardcover)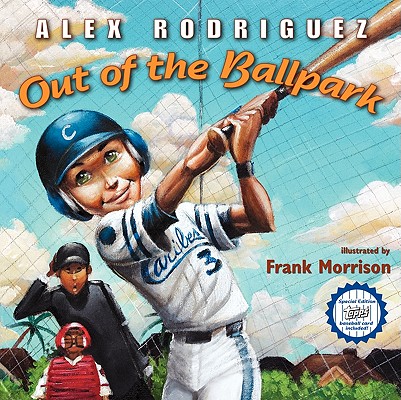 $16.99

Special Order—Subject to Availability
Description
---
Before he hit 400 home runs...
Before he was named
American League MVP...
Before he was AROD to
millions of fans...
He was Alex.
Just a kid who wanted to play baseball more than anything else in the world.
Baseball superstar Alex Rodriguez has drawn on his own childhood experiences to create this exciting picture book. It's the story of a boy named Alex who knows what it's like to swing at a wild pitch or have a ball bounce right between his legs. Alex is determined not to let his mistakes set him back—even if it means getting up at the crack of dawn to work on his hitting and fielding before school each day!
Full of the spirit of determination and joy in the game that put AROD in a league of his own, Out of the Ballpark is a gift from a great sports hero to every young player who dreams of becoming a star.
About the Author
---
Alex Rodriguez is the third baseman for the New York Yankees. Three times voted the American League Most Valuable Player, he was born in New York City, moved with his family to their native Dominican Republic when he was four, then moved to Miami with his family at the age of eight. The only person in baseball history to hit 400 home runs before his thirtieth birthday, he hit his first home run at the age of six. Drafted out of high school, he played for the Seattle Mariners and then the Texas Rangers before being signed by the Yankees. Alex lives in New York City and Miami, Florida.
---
Alex Rodríguez juega la tercera base para los Yankees de Nueva York. Ha sido elegido dos veces como jugador más valioso (MVP) de la Liga Americana. Nació en Nueva York y a los cuatro años se mudó con su familia a su país de origen, la República Dominicana. Cuando Alex tenía ocho años, regresaron para radicarse en Miami. El único jugador en la historia del béisbol que ha bateado 400 jonrones antes de cumplir los treinta años de edad, ¡Alex bateó su primer jonrón a los seis años! Seleccionado en la escuela secundaria entre los mejores del país por los Marineros de Seattle, jugó para los Rancheros de Texas antes de ser contratado por los Yankees. Alex, su esposa Cynthia y su hijita viven en la ciudad de Nueva York y en Miami, FL.
Frank Morrison is the award-winning illustrator of many books for young readers, including Jazzy Miz Mozetta by Brenda C. Roberts, winner of the Coretta Scott King/John Steptoe Award for New Talent; Katheryn Russell-Brown's Little Melba and Her Big Trombone, a Coretta Scott King Illustrator Honor book; and Gene Barretta's Muhammad Ali. Before becoming a children's book illustrator and fine artist, Morrison toured the globe as a break-dancer. He lives in Georgia with his family. You can visit him online at www.morrisongraphics.com.