Anarchy Evolution: Faith, Science, and Bad Religion in a World Without God (Paperback)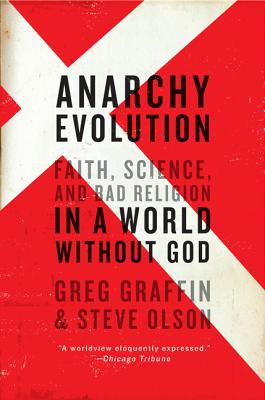 $17.99

Not On Our Shelves—Ships in 1-5 Days
Description
---
"Take one man who rejects authority and religion, and leads a punk band. Take another man who wonders whether vertebrates arose in rivers or in the ocean, is fascinated by evolution, creativity, and Ice Age animals. Put them together, what do you get? Greg Graffin, and this uniquely fascinating book." —Jared Diamond, author of Guns, Germs, and Steel
Anarchy Evolution is a provocative look at the collision between religion and science, by an author with unique authority: UCLA lecturer in Paleontology, and founding member of Bad Religion, Greg Graffin. Alongside science writer Steve Olson (whose Mapping Human History was a National Book Award finalist), Graffin delivers a powerful discussion sure to strike a chord with readers of Richard Dawkins' The God Delusion or Christopher Hitchens God Is Not Great. 
In this passionate polemic, Graffin argues that art and science have a deep connection. He describes his own coming-of-age as an artist and the formation of his naturalist worldview over the past three decades. Anarchy Evolution sheds new light on the long-standing debate on religion and the human condition. It is a book for anyone who has ever wondered if God really exists.

About the Author
---
Greg Graffin is the lead vocalist and songwriter of Bad Religion. He obtained his PhD in zoology at Cornell University, and has served as a lecturer in life sciences and paleontology at UCLA. He splits his time between Ithaca, New York, and Los Angeles.
Steve Olson is an award-winning science writer, a consultant for the National Academy of Sciences, and the author of Mapping Human History: Genes, Race, and Our Common Origins, a National Book Award finalist.
Praise For…
---
"Take one man who rejects authority and religion, and leads a punk band. Take another man who wonders whether vertebrates arose in rivers or in the ocean, is fascinated by evolution, creativity, and Ice Age animals. Put them together, what do you get? Greg Graffin, and this uniquely fascinating book."
— Jared Diamond, Pulitzer Prize-winning author of Guns, Germs, and Steel and Collapse

"A worldview eloquently expressed."
— Chicago Tribune

"[Graffin] explains how evolution can be a guide to life."
— Scientific American

"Humble, challenging, and inspiring. . . . For Graffin, the appeal of both worlds was that, at their best, they challenged authority, dogma and given truths and opened up space for the anarchic process of creativity."
— Kirkus Reviews (starred review)

"Graffin is one of those rare people who seem to have combined two lives into one. He's one of a small but growing number of atheists in the United States willing to talk about the damage they believe religion can do."
— Paste

"Bucking authority and the religious views of his family, Graffin explains how he has developed a personal philosophy that celebrates the power of nature."
— Nature

"Anarchy Evolution sets out to draw connections between evolution, naturalist thought and punk, an undertaking that might sound rife with the potential to be reachy—or preachy. But Graffin and Olson manage to weave the seemingly disparate concepts together into a satisfying narrative."
— LA Weekly

"Whether you're a believer, an atheist, an agnostic, or anything in between, this is a necessary book."
— PopMatters