The Life and Times of Benny Alvarez (Hardcover)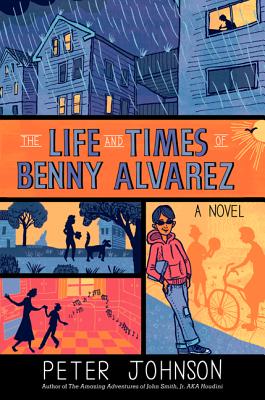 $16.99

Special Order—Subject to Availability
Description
---
This heartfelt story about school, friendship, and family is perfect for readers who can't get enough of such middle grade favorites as Jerry Spinelli and Gary D. Schmidt. From acclaimed author Peter Johnson, The Life and Times of Benny Alvarez is a novel that will make you laugh, cry, and appreciate your family all the more.
Everyone thinks Benny Alvarez is Mr. Negativity. According to Benny, he's just realistic about seeing the "other side" of things—when it comes to just about everything. But maybe there's another way to deal with the things Benny can't control—like his ailing grandfather, his wild younger brother, and the know-it-all girls at school. In this poignant novel about acceptance, Benny Alvarez will have to decide . . . is the glass half empty or half full?
About the Author
---
Peter Johnson grew up in Buffalo, New York, at a time when they had a good football team, which seems like fifty years ago. Similar to Benny Alvarez and his friends, Peter always loved words, knowing he was going to be a teacher or a professional baseball player. Also, being from a long line of Irish storytellers, he loved reading and telling tales, and when he realized that his stories changed every time he told them, and that he could get paid for this kind of lying, he decided to become a novelist. His first middle grade novel, The Amazing Adventures of John Smith, Jr. AKA Houdini, was named one of the Best Children's Books by Kirkus Reviews, and he's received many writing fellowships, most notably from the National Endowment for the Arts.
Praise For…
---
"This slice-of-life novel portrays Benny and his entertaining family and friends with just the right balance of angst and humor. Spot-on."
— Publishers Weekly

"This friendship story will appeal to word nerds and those that tolerate them, and it may even produce some tears under cover of humor."
— Kirkus Reviews