CC Claus: A Baseball Christmas Story (Hardcover)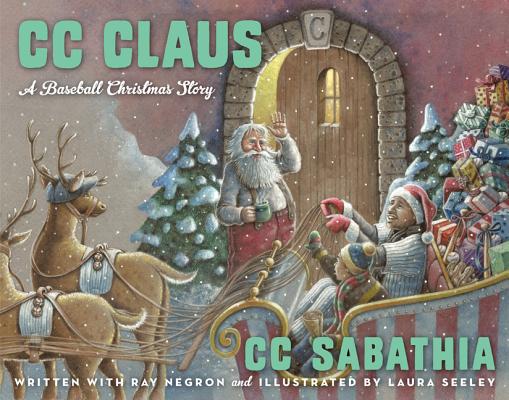 $16.99
Special Order—Subject to Availability
Description
---
For readers of all ages comes A sweet holiday story of how beloved New York Yankee star pitcher CC Sabathia, his son Carsten, and a few of baseball's most legendary players save Christmas!
hile reading fan mail with his oldest son, Carsten, on Christmas Eve, CC Sabathia finds a letter addressed to Santa from a little girl whose family has lost everything in a flood. To help make the little girl's Christmas wishes come true, CC and Carsten head to the North Pole to deliver the letter to Santa. But Santa and his elves might be too overwhelmed to finish presents for another family this close to Christmas!
Determined to help Santa make sure every child has a happy Christmas, CC calls his boss, Mr. Steinbrenner, who rallies a stellar lineup of helpers: Mickey Mantle, Joe DiMaggio, Ted Williams, Babe Ruth, Lou Gehrig, Jackie Robinson, and many more baseball legends.
Together, CC, Mr. Steinbrenner, Carsten, and all the greats of baseball set to work making bats, gloves, train sets, dolls, and other toys. But even with their efforts, there may be no Christmas—Santa Claus is sick. To save the day, Carsten suggests that his dad, CC, become CC Claus. Donning a red-and-white Santa hat, CC and Carsten fire up the sleigh and take Santa's place, making children's special Christmas dreams come true.
About the Author
---
CC Sabathia began his major league career with the Cleveland Indians when he was only twenty. He has won the American League Cy Young Award and the Sporting News' Pitcher of the Year Award, and he's a five-time All-Star. In addition to his baseball career, Sabathia is involved with community-focused activities, including the Boys & Girls Club and Strikeouts for Troops. In 2009, he became a New York Yankee and cofounded the PitCCh In Foundation with his wife. Sabathia lives in Alpine, New Jersey, with his wife, Amber, and their four children, Carsten, Jaeden, Cyia, and Carter.
Ray Negron is the author of the New York Times bestseller The Boy of Steel: A Baseball Dream Come True, as well as two other children's picture books. He was a Yankees batboy, played minor league ball, and worked for the Cleveland Indians. He currently works with the Yankees as a special advisor on community relations for Hank Steinbrenner and Randy Levine. In addition, he is the producer of the animated film Henry & Me. He lives in Florida with his four children.