We're following all official guidelines to keep ourselves healthy on the job, and as a result, shipping may be delayed.
You will receive an email from our web orders team confirming that your order has been processed.
We thank you for your support and your patience at this challenging time.
The Confessions of Frannie Langton: A Novel (Hardcover)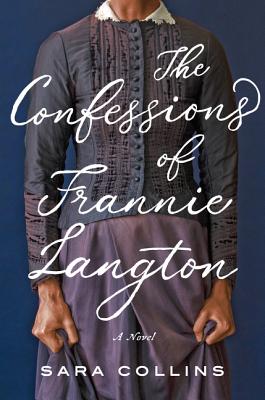 June 2019 Indie Next List
---
"Drawing on her experiences of growing up in the Cayman Islands, attending university in London, and practicing law, outstanding debut author Sara Collins has drawn a character one will not soon forget. Told with evocative language, Frannie Langton's confession is a life story not to be missed. Raised on a sugar plantation in Jamaica, then transported to a life of servitude in London, Frannie lives a life of twists and turns of love and betrayal that will both shock and intrigue you. I was as tense as she was waiting for the verdict to be handed down. Thank you, Sara Collins!"
— Mary Mollman, Booked, Evanston, IL
Description
---
Winner of the Costa First Novel Award
One of BOOKRIOT and POPSUGAR's Best Books of 2019
"A startling, compelling historical debut novel. . . should be on top of your vacation reading pile." -The Washington Post
"A stunning debut. . . . I love this book." -Guardian
"Reminiscent of Margaret Atwood's Alias Grace . . . [a] devious, richly detailed debut." -O: The Oprah Magazine
A servant and former slave is accused of murdering her employer and his wife in this astonishing historical thriller that moves from a Jamaican sugar plantation to the fetid streets of Georgian London—a remarkable literary debut with echoes of Alias Grace, The Underground Railroad, and The Paying Guests.

All of London is abuzz with the scandalous case of Frannie Langton, accused of the brutal double murder of her employers, renowned scientist George Benham and his eccentric French wife, Marguerite. Crowds pack the courtroom, eagerly following every twist, while the newspapers print lurid theories about the killings and the mysterious woman being tried at the Old Bailey.
The testimonies against Frannie are damning. She is a seductress, a witch, a master manipulator, a whore.
But Frannie claims she cannot recall what happened that fateful evening, even if remembering could save her life. She doesn't know how she came to be covered in the victims' blood. But she does have a tale to tell: a story of her childhood on a Jamaican plantation, her apprenticeship under a debauched scientist who stretched all bounds of ethics, and the events that brought her into the Benhams' London home—and into a passionate and forbidden relationship.
Though her testimony may seal her conviction, the truth will unmask the perpetrators of crimes far beyond murder and indict the whole of English society itself.
The Confessions of Frannie Langton is a breathtaking debut: a murder mystery that travels across the Atlantic and through the darkest channels of history. A brilliant, searing depiction of race, class, and oppression that penetrates the skin and sears the soul, it is the story of a woman of her own making in a world that would see her unmade.
About the Author
---
Sara Collins is of Jamaican descent and grew up in Grand Cayman and studied law at the London School of Economics and worked as a lawyer for seventeen years before doing a Master of Studies in Creative Writing at Cambridge University, where she was the recipient of the 2015 Michael Holroyd Prize for Creative Writing. Twitter: @mrsjaneymac
Praise For…
---
"Collins's propulsive spine-tingler uses the conventions of historical fiction but infuses the genre with edgy beauty. . . . In her deft hands, defiant Frannie summons courage and cunning to tell a story of colonialism, racism, and the yearning to connect."
— O: The Oprah Magazine, "The Best Books by Women of Summer 2019"

"Deep-diving, elegant + tough."
— Margaret Atwood via @MargaretAtwood

"A blistering historical thriller."
— Entertainment Weekly

"A well-crafted, searing depiction of race, class and oppression."
— New York Times

"A startling, compelling historical debut novel. . . should be on top of your vacation reading pile."  
— Washington Post

"A highly accomplished debut. . . . Large, lavish and gutsy, a skilled and intoxicating mash-up of slave narrative, gothic romance, whodunit and legal thriller. Collins—who lives in London and is of Jamaican descent—pays careful attention to historical detail while at the same time ensuring her reader stays immersed in her emotional drama and invested in her full-bodied characters."
— Minneapolis Star Tribune

"Impressive. . . . Retrieving the truth—all sorts of truth—is the transfixing work of this rich and extravagantly well-written novel."
— Wall Street Journal

"[An] impressive debut. . . . a bold and timely reinvention of the classic gothic novel. . . . reminiscent of the best of Sarah Waters. . . . Collins has created a truly memorable heroine and written a compelling gothic novel for our times."
— The Guardian 

"There is lots to love in this impressive debut. Sara Collins is interesting on race and power. Frannie is an unforgettable character with a delicious, wicked turn of phrase. . . . Collins is a star in the making."
— The Times (London)

"Captivating. . . . a beguiling story with strong feminist overtones."
— Irish Times

"An absorbing, utterly searing read . . . . As immersive as The Confessions of Frannie Langton is, its real power is in how it will make you want to engage with your own reality differently."
— The Globe and Mail

"A formidable debut."
— Refinery29, 󈫻 Books We Can't Wait to Read This Spring"

"It's truly remarkable that The Confessions of Frannie Langton is Sara Collins' first novel. The plotting is so assured, the characters so layered, the prose so searing. . . . the historical setting hums with life. . . . Collins has gifted us with a powerful new heroine while shining a brilliant spotlight on a swathe of history that is too often relegated to footnotes."
— Criminal Element

"Powerful. . . .both a highly suspenseful murder mystery and a vivid historical novel, but best of all is the depiction of Frannie, a complex and unforgettable protagonist. This is a great book sure to find a wide—and deserved—audience."
— Publishers Weekly (starred review)

"Collins' debut novel administers a bold and vibrant jolt to both the gothic and historical fiction genres. . . . Most of all, she has created in her title character a complex, melancholy, and trenchantly observant protagonist. . . . as dynamic and compelling as any character conceived by a Brontë sister. . . [a] gripping, groundbreaking debut."
— Kirkus Reviews (Starred Review)

Sara Collins takes the gothic genre by the scruff of the neck and boldly positions a black Jamaican woman as the protagonist in London 200 years ago. It's a triumph of powerful characterization melded with suspenseful plotting while also breaking new ground in subverting a familiar genre.
— Bernardine Evaristo, Booker Prize-winning author of Girl, Woman, Other

"By turns lush, gritty, wry, gothic and compulsive, The Confessions of Frannie Langton is a dazzling page-turner. With as much psychological savvy as righteous wrath, Sara Collins twists together the slave narrative, bildungsroman, love story and crime novel to make something new."
— Emma Donoghue

"From the sweltering heat of the West Indies to the rain-slicked cobbles of London, Collins transports her readers to the nineteenth century with an enthralling historical thriller. Frannie Langton is an unforgettable heroine, one who boldly reclaims her narrative within the context of a history that seeks to silence her. The Confessions of Frannie Langton is gorgeous—Gothic writing at its very best."
— Christine Mangan, bestselling author of Tangerine

"Destined to become a benchmark for historical fiction, The Confessions of Frannie Langton is at once fiercely raw and remorselessly beautiful.... A book to be devoured, marveled at, applauded—and yes, studied, for its ability to turn grim history into a wildly romantic expedition into the darkest corners of the human heart."
— Lyndsay Faye, internationally bestselling author of Jane Steele and The Gods of Gotham

"A spectacular, dark novel, with elements of Jane Eyre and Paradise Lost. . . Just like all really good Gothic stories, it keeps you balancing right on the edge of not wanting to look, but feeling like you can't look away. . . An absolute gem that points at you and asks whether it might be a sign of horrifying privilege, to enjoy a genre devoted to the grotesque."
— Natasha Pulley, author of The Watchmaker of Filigree Street

"Sara Collins has created a tough, fiery, vividly alive character. Beautifully written, in crisp and careful prose; but more than that, it comes across as a story that's been waiting to be written for a very long time…[Collins] has picked up the tradition of gothic fiction and made it brand new."
— Stef Penney, bestselling author of The Tenderness of Wolves

"Frannie's voice is compelling: tender and furious and wholly deserving of attention."
— Jessie Greengrass, author of Sight