Where Did Dinosaurs Come From? (Let's-Read-and-Find-Out Science 2) (Paperback)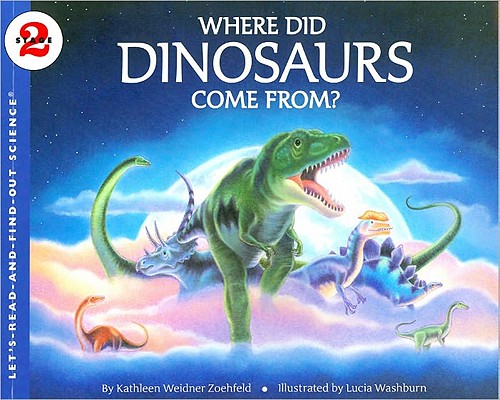 $5.99

Special Order—Subject to Availability
Description
---
Read and find out about where dinosaurs originated in this colorfully illustrated nonfiction picture book.
Stegosaurus had spikes along its back.Triceratops had long, sharp horns.Tyrannosaurus rex was enormous. Millions and millions of years before the first people lived, these fascinating creatures ruled the Earth. To find out where they came from, you have to look way back in time—3.5 billion years ago! Come explore one of the biggest mysteries of all: Where did dinosaurs come from? Read and find out!
This is a clear and appealing science book for early elementary age kids, both at home and in the classroom. It s a Level 2 Let's-Read-and-Find-Out, which means the book explores more challenging concepts for children in the primary grades. The 100+ titles in this leading nonfiction series are:
hands-on and visual
acclaimed and trusted
great for classrooms
Top 10 reasons to love LRFOs:
Entertain and educate at the same time
Have appealing, child-centered topics
Developmentally appropriate for emerging readers
Focused; answering questions instead of using survey approach
Employ engaging picture book quality illustrations
Use simple charts and graphics to improve visual literacy skills
Feature hands-on activities to engage young scientists
Meet national science education standards
Written/illustrated by award-winning authors/illustrators & vetted by an expert in the field
Over 130 titles in print, meeting a wide range of kids' scientific interests
Books in this series support the Common Core Learning Standards, Next Generation Science Standards, and the Science, Technology, Engineering, and Math (STEM) standards. Let's-Read-and-Find-Out is the winner of the American Association for the Advancement of Science/Subaru Science Books & Films Prize for Outstanding Science Series.
About the Author
---
Kathleen Weidner Zoehfeld is the award-winning author of more than ninety books for children. She has written several books in the Let's Read And Find Out Science series, including: WHAT LIVES IN A SHELL?, an NSTA/CBC "Outstanding Science Trade Book" and winner of the American Association for the Advancement of Science's "Best Children's Book" award; WHAT IS THE WORLD MADE OF?, a Children's Book of the Month Club Main Selection; WHAT'S ALIVE?, also named an AAAS "Best Children's Book"; HOW MOUNTAINS ARE MADE, an NSTA/CBC "Outstanding Science Trade Book," DINOSAUR TRACKS, "a great choice for even the most discriminating dinophiles" (School Library Journal); and DINOSAURS BIG AND SMALL, winner of the Oppenheim Toy Portfolio "Best Book Award"
Kathleen was a children's book editor for over ten years before becoming a full-time writer. When she is not reading, researching, writing, or editing she loves to spend her free time exploring, doing fieldwork, and preparing and curating fossils for her local natural history museums. She lives in Berkeley, CA.
Lucia Washburn has illustrated more than a dozen books for children. Her Let's-Read-and-Find-Out Science books include Dinosaur Tracks, Dinosaurs Big and Small, and Did Dinosaurs Have Feathers?, which has illustrations that "provide vivid visualizations of long-ago landscapes" (School Library Journal). Her other books include Look to the North by Jean Craighead George, a 1997 Parents' Choice Gold Award winner praised as "a fine addition to science collections" (ALA Booklist). When she travels, she and her family enjoy visiting the local museums to see their dinosaur collections. Being the mother of two children, she has a special fondness for Maiasaura. She lives in California with her family.
Praise For…
---
Praise for Dinosaur Tracks: "A great choice for even the most discriminating dinophiles."-School Library Journal Zoehfeld builds on children's fascination with dinosaurs by providing…details about fossil tracks. The clear text is illustrated with informal, colorful spreads."
— ALA Booklist

Praise for Did Dinosaurs Have Feathers?: "Pastel illustrations in pale tones provide vivid visualizations of long-ago landscapes. Libraries that serve dinosaur fanatics will find this a welcome addition."
— School Library Journal

Praise for Did Dinosaurs Have Feathers?: "An interesting addition to an excellent series."
— ALA Booklist

Praise for Did Dinosaurs Have Feathers?: "This is a solid read for primary grade readers who are ready to move from simply exposition to a more subtle, problem-solving approach."
— Association of Children's Literature

Praise for Did Dinosaurs Have Feathers?: "Young dinosaur enthusiasts will love this fascinating information."
— Kirkus Reviews

Praise for Dinosaurs Big and Small: "Brightly colored, informative, and on a cherished topic, the book is certain to gather no shelf-sitter dust."
— School Library Journal

Praise for Dinosaurs Big and Small: "Well focused and very appealing."
— ALA Booklist

Praise for Dinosaurs Big and Small: "This book, geared toward teaching preschoolers and kindergartners simple science concepts, shows size difference in a way that children can understand."
— Association of Children's Literature

Praise for Dinosaur Babies: "This easy-to-read series entry will be welcomed with deserved delight by young dinophiles."
— School Library Journal