Breaking Away: How Great Leaders Create Innovation That Drives Sustainable Growth--And Why Others Fail (Hardcover)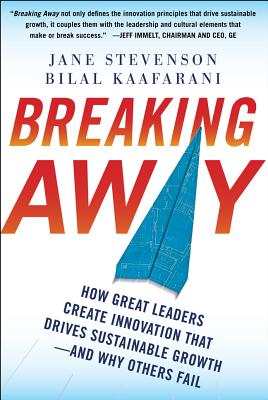 $35.00

Not On Our Shelves—Ships in 1-5 Days
(This book cannot be returned.)
Description
---
Innovation Leaders Praise Breaking Away
"Finally, innovation in a framework that is clear, insightful and easy to put into practice. This is a must read."
--Angela Ahrendts, Chief Executive Officer, Burberry
"Breaking Away has a clear and important message: that innovation--the dogged pursuit of new solutions to old problems--is often the defining feature of a successful endeavor, be it a research project, a corporation or a society."
--Dean Kamen, CEO, DEKA, inventor of the heart stent, the Segway, and many other transformational innovations
"Using case studies and real examples, Jane Stevenson and Bilal Kaafarani uncover the missing ingredient in innovation--getting the most from your people. This book shows you how companies can excel."
--Joel Kurtzman, Milken Institute and Wharton's SEI Center for Advanced Studies in Management
"Innovation requires top leadership with courage and passion to win. With its four levels of innovation. Breaking Away provides a great road map for success. A must read for any executive."
--Denise Morrison, Board Member, COO and CEO Elect, The Campbell Soup Company
"A fabulous read Breaking Away artfully defines innovation and clarifies the critical role leadership plays in nurturing the right culture for innovation and growth."
--Marco Jesi, Chairman of the Board, Limoni Profumerie S.P.A.
"At last, a book that captures the critical role leadership plays in enabling a culture where innovation is stimulated, valued, supported and celebrated. The authors have gone deep to understand what the best CEO's do to develop continuous innovation as a competitive edge. Breaking Away gives us a clear framework to make that happen in every organization."
--Cynthia McCague, Board of Directors, Monster.com and former SVP Human Resources, The Coca-Cola Company
"Stevenson and Kaafarani 'break away' from traditional thinking to converge on a powerful thesis that will forever change how we view innovation."
--Judith Glaser, CEO Benchmark Communications, Inc, and the bestselling author of Creating We and DNA of Leadership
"A how-to guide on inspiring a culture of innovation in your workplace."
--CIO Insight's Best Business Books for 2011
About the Book
The key to generating growth and shareholder value today is the ability to develop and embed innovation into every facet of business. But how do you do that?
Leadership. It takes a business leader with vision and a sense of accountability to merge corporate culture and innovation processes into a powerful, self-sustaining engine that dominates markets. Without that kind of leadership, a company is just spinning its wheels.
Breaking Away provides the framework to be that leader--and to create other leaders who will drive your company into a future of profits and growth.
Pioneers in the field of innovation leadership, Jane Stevenson and Bilal Kaafarani provide a simple but powerful model for breaking away from your industry pack by fully utilizing your employees, technology, and resources. You'll learn how:
Ford beat Toyota in the race to create the first hybrid (and why everyone thinks it was vice versa)
GE's development of a locomotive battery makes planet earth more sustainable
Skype landed 480 million registered users in its first four years of business
Emirates airline has grown from a small, regional carrier to one of the world's top three airlines
Different organizations, different industries . . . one thing in common: a cadre of leaders who understand the nature of innovation, develop well-defined priorities, and maintain a powerful sense of accountability.
Breaking Away will change the way you approach leadership and innovation--and put you on the road to market domination.
About the Author
---
Jane Edison Stevenson is Vice Chairman, Board and CEO Services at Korn/Ferry International, the world's leading C-suite talent management firm, and has spent 25 years assessing and recruiting the world's top innovation leaders. Bilal Kaafarani is Senior VP, Global Research and Innovation officer of The Coca-Cola Company. He has held leadership roles with Frito Lay Tropicana, Proctor & Gamble, and Kraft, where he developed the technology resulting in the successful "Kraft Free" products. He holds several patents for breakthrough technologies in the food sector.