Saint Iggy (Hardcover)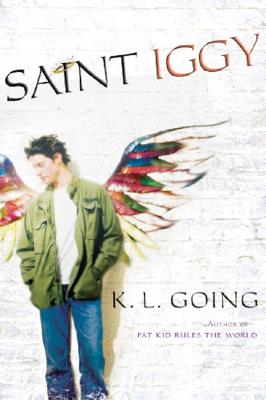 Out of Print in This Format
Description
---
I am not so bad a person once you get to know me.

When Iggy Corso gets kicked out of high school, there's no one for him to tell. His mother has gone off, his father is stoned on the couch, and the phone's been disconnected, so even the social worker can't get through. Leaving his public housing behind, Iggy ventures into the world to make something of his life. It's not easy when you're sixteen, have no skills, and your only friend is mixed up with the dealer who got your mom hooked. But Iggy is . . . Iggy, and he has the kind of wisdom that lets him see what no one else can.

K. L. Going's third novel is a haunting achievement about a young man's tragic search for meaning in a world that to him makes no sense.


About the Author
---
K. L. GOING is the author of FAT KID RULES THE WORLD, a Michael L. Printz honor book, and THE LIBERATION OF GABRIEL KING, a southern middle grade novel. She's had many jobs, including assistant at a Manhattan literary agency and manager of an independent bookstore, but now she writes full-time. She lives in Glen Spey, New York.
Praise For…
---
* "The author...avoids heavy symbolism and message by grounding her story in realistic, grimly vivid, urban details, and she creates a memorable character in Iggy...Teens will connect with Iggy's powerful sense that although he notices everything, he is not truly seen and accepted himself." --Booklist (September 15, 2006 - starred review)

— Booklist
* "Iggy Corso is unforgettable." --School Library Journal (September 2006) (starred review)

— School Library Journal
"In a carefully crafted novel that makes metaphors out of everything from dead-end streets to a doorman's casual query...K.L. Going tracks her hero on his quest to 'do good' in both senses of the phrase... Going folds it all into her larger story of urban redemption without sentimentalizing any of it--or goodness either--and Iggy's wry humor keeps the lurking didacticism in check." --Washington Post Book World (October 1, 2006)
— Washington Post Book World