My Bonny Light Horseman (Bloody Jack Adventures #6) (Hardcover)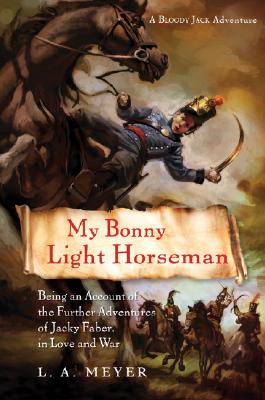 Description
---
The infamous pirate, riverboat seductress, master of disguise, and street-urchin-turned-sailor Jacky Faber has been captured by the French and beheaded in full view of her friends and crew.
Inconceivable? Yes! The truth is she's secretly forced to pose as an American dancer behind enemy lines in Paris, where she entices a French general into revealing military secrets—all to save her dear friends. Then, in intrepid Jacky Faber style, she dons male clothing and worms her way into a post as galloper with the French army, ultimately leading a team of men to fight alongside the great Napoleon.
In this sixth installment of the Bloody Jack Adventures series, love and war collide as the irrepressible Jacky Faber sets off on a daring adventure she vowed she'd never take.
About the Author
---
L. A. Meyer (1942–2014) was the acclaimed writer of the Bloody Jack Adventure series, which follows the exploits of an impetuous heroine who has fought her way up from the squalid streets of London to become an adventurer of the highest order. Mr. Meyer was an art teacher, an illustrator, a designer, a naval officer, and a gallery owner. All of those experiences helped him in the writing of his curious tales of the beloved Jacky Faber. Visit www.jackyfaber.com for more information on the author and his books.