Shelter from the Machine: Homesteaders in the Age of Capitalism (Paperback)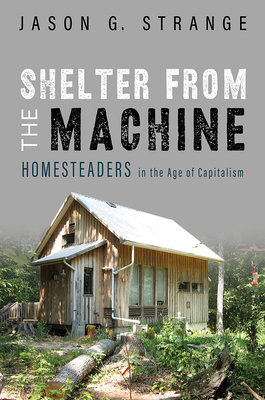 $22.95

Not On Our Shelves—Ships in 1-5 Days
Description
---
"You're either buried with your crystals or your shotgun." That laconic comment captures the hippies-versus-hicks conflict that divides, and in some ways defines, modern-day homesteaders. It also reveals that back to-the-landers, though they may seek lives off the grid, remain connected to the most pressing questions confronting the United States today.

Jason Strange shows where homesteaders fit, and don't fit, within contemporary America. Blending history with personal stories, Strange visits pig roasts and bohemian work parties to find people engaged in a lifestyle that offers challenge and fulfillment for those in search of virtues like self-employment, frugality, contact with nature, and escape from the mainstream. He also lays bare the vast differences in education and opportunity that leave some homesteaders dispossessed while charting the tensions that arise when people seek refuge from the ills of modern society—only to find themselves indelibly marked by the system they dreamed of escaping.
About the Author
---
Jason Strange is an assistant professor of general studies and peace and social justice studies at Berea College, and the chair of the Department of Peace and Social Justice Studies.
Praise For…
---
"This well-written book offers a judgment-free assessment of the core reasons for our nation's cultural divide, along lines created by disparate access to education and opportunity. " --Progressive

"Do yourself a favor, and read Shelter From The Machine." --Smokey Mountain Living Magazine

​"[Strange's] book has many moments of humor and presents a rich array of folk wisdom imparted by real folk." --Homestead.org

"An important and much needed addition. Strange does a strong job of providing the historical context for homesteading and the reasons why it is so significant today. But even more important are his willingness to ground the book in the words and deeds of the homesteaders themselves and his own history with homesteading, and to go beyond a historical description to explore the role of class and capitalism in explaining the homesteaders' differences."—Stephen L. Fisher, coeditor of Transforming Places: Lessons from Appalachia

"An intimate but sprawling, profound but accessible gem of a book, Shelter from the Machine provides a useful and accessible critique of our 'macroparasitic' political economy and a timely reminder that transformative change is as possible as it is necessary."—Shaunna L. Scott, coeditor of Studying Appalachian Studies: Making the Path by Walking

"Strange offers a nuanced exploration of the concept of literacy." --Choice