The Endgame: The Inside Story of the Struggle for Iraq, from George W. Bush to Barack Obama (Paperback)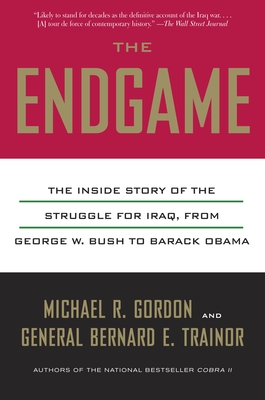 Description
---
A Wall Street Journal Best Nonfiction Book of 2012

In this follow-up to their national bestseller Cobra II, Michael Gordon and General Bernard E. Trainor deftly piece together the story of the most widely reported but least understood war in American history. This stunning account of the political and military struggle between American, Iraqi, and Iranian forces brings together vivid reporting of diplomatic intrigue and gripping accounts of the blow-by-blow fighting that lasted nearly a decade. Informed by brilliant research, classified documents, and extensive interviews with key figures—including everyone from the intelligence community to Sunni and Shi'ite leaders and former insurgents to senior Iraqi military officers—The Endgame presents a riveting chronicle of the occupation of Iraq to the withdrawal of American troops that is sure to remain the essential account of the war for years to come.
About the Author
---
Michael R. Gordon is the chief military correspondent for The New York Times, where he has worked since 1985. He is the coauthor, with Lieutenant General Bernard E. Trainor, of The Generals' War and Cobra II. He has covered the Iraq and Afghan wars, the Kosovo conflict, the Russian war in Chechnya, the 1991 Persian Gulf War, and the American invasion of Panama.
 
Bernard E. Trainor, a retired Marine Corps lieutenant general, was a military correspondent for The New York Times from 1986 to 1990. He was director of the National Security Program at Harvard University's John F. Kennedy School of Government from 1990 to 1996 and was a military analyst for NBC during the Iraq War.
Praise For…
---
Praise for Michael R. Gordon and General Bernard E. Trainor's The Endgame:

"Likely to stand for decades as the definitive account of the Iraq war. . . . [A] tour de force of contemporary history. . . . The best tribute we can pay to the Iraq veterans is to remember what they did, and that is precisely the achievement of [The Endgame]."
—The Wall Street Journal
 
"Meticulous. . . . Persuasive. . . . Should be required reading. . . . Thanks to the authors' extraordinary research and sobriety, the accumulation of one well-documented fact after another is compelling. . . . 'Regime change' means not only getting rid of a bad regime but also finding a way to replace it with something better. The Endgame shows just how hard that process can be—and, by implication, how crazy it is to start a war without good plans for how to finish it"
—The New York Times
 
"Ambitious. . . . A well-researched, highly critical look at U.S. policy in Iraq. . . . Ultimately, The Endgame invites the question whether President Obama threw his support behind the wrong war."
—Newsweek/The Daily Beast
 
"The devil of the story is in the details, and the authors do a superb job of providing them. . . . Likely to be considered definitive for some time to come."
—The Washington Times
   
"A solid chronicle of the Iraq War, emphasizing military maneuvers and Iraqi participation at all levels. . . . A deliberate, chronological construction of events. . . . A straightforward, evenhanded account of the nine-year slog that began as a 'war of choice' and became 'a war of necessity.'"
—Kirkus Reviews
  
"A fantastic book . . . highly anticipated and a must-read on this subject."
—Joe Scarborough, MSNBC's "Morning Joe"
 
"Gordon is considered by many to be the best reporter on the Iraq war . . . his long-awaited book is likely to shed new light particularly on the last half-decade of U.S. involvement."
—Foreign Policy
 
"An epic piece of work."
—Andrea Mitchell, MSNBC
 
"What Michael Gordon has written is correct."
—Iraqi Foreign Minister Hoshyar Zebari
 
"If you want to know about this painful and critical episode of American history, you have to read these books."
—James Rosen, Fox News
 
"Gordon and Trainor's most ambitious and news-breaking book to date. A peerless work of investigative journalism and historical recreation ranging from 2003 to 2012, it gives us the first comprehensive, inside account of arguably the most widely reported yet least understood war in American history."
—Frogen Yozurt Online Magazine