The Children of Sanchez: Autobiography of a Mexican Family (Paperback)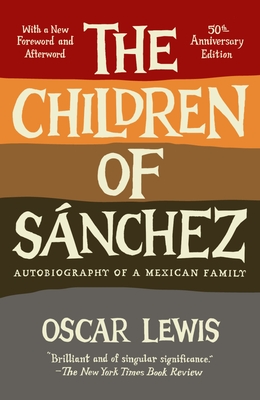 Description
---
A pioneering work from a visionary anthropologist, The Children of Sanchez is hailed around the world as a watershed achievement in the study of poverty—a uniquely intimate investigation, as poignant today as when it was first published.
 
It is the epic story of the Sánchez family, told entirely by its members—Jesus, the 50-year-old patriarch, and his four adult children—as their lives unfold in the Mexico City slum they call home. Weaving together their extraordinary personal narratives, Oscar Lewis creates a sympathetic but ultimately tragic portrait that is at once harrowing and humane, mystifying and moving.
 
An invaluable document, full of verve and pathos, The Children of Sanchez reads like the best of fiction, with the added impact that it is all, undeniably, true.
About the Author
---
Oscar Lewis was born in New York City in 1914 and grew up on a small farm in upstate New York. He received his Ph.D. in anthropology from Columbia University in 1940, and taught at Brooklyn College and Washington University before helping to found the anthropology department at the University of Illinois, where he was a professor from 1948 until his death. From his first visit to Mexico in 1943, Mexican peasants and city dwellers were among his major interests. In addition to The Children of Sanchez, his other studies of Mexican life include Life in a Mexican Village, Five Families, Pedro Martinez, and A Death in the Sanchez Family. He is also the author of La Vida: A Puerto Rican Family in the Culture of Poverty—San Juan and New York, which won the National Book Award, and Living the Revolution: An Oral History of Contemporary Cuba, with his wife, Ruth Maslow Lewis, and Susan M. Rigdon. Lewis also published widely in both academic journals and popular periodicals such as Harper's. Some of his best-known articles were collected in Anthropological Essays (1970). The recipient of many distinguished grants and fellowships, including two Guggenheims, Lewis was a Fellow of the American Academy of Arts and Sciences. He died in 1970.
Praise For…
---
"One of the outstanding contributions of anthropology—of all time."
—Margaret Mead
 
"Lewis has made something brilliant and of singular significance, a work of such unique concentration and sympathy that one hardly knows how to classify it. It is all, every bit of it except for the introduction, spoken by the members of the Sánchez family. They tell their feeling, their lives, explain their nature, their actual existence with all the force and drama and seriousness of a large novel. . . . The result is a moving, strange tragedy, not an interview, a questionnaire or a sociological study."
—Elizabeth Hardwick, The New York Times Book Review
 
"A significant account of poverty as a culture unto itself. . . . An anthropological classic."
—Los Angeles Times
 
"This book—often brutal, sometimes revolting, but always powerful and compelling in its vivid truth—reveals poverty as the reader could not know it unless he lived it."
—The Washington Post
 
"Extraordinary. . . . Not only a fascinating documentary but a work of art created by reality itself, an edited record of fact that comes closer than most contemporary fiction to the force of literature."
—Time
 
"Oscar Lewis's books on Mexico and Puerto Rico awakened in many of us a feeling that we must do more to alleviate the world's poverty."
—The Christian Science Monitor
 
"Panoramic. . . . The Children of Sánchez is an amazing achievement. . . . So exciting, so moving, so full of human warmth and sadness."
—The Spectator
 
"The exciting thing about The Children of Sánchez, the fact which makes it a new point of departure in its field, is its humanity, its quality of projecting the individual, agonizing voice of the poor as they describe their own plight. This is a real accomplishment, original and full of substance."
—Michael Harrington, Commonweal
 
"[Lewis's] masterpiece. . . . Uniquely, for me, his book depicts a world—the society of poverty—which creates its own survival structures and rationale. Its voices are at once warm and cynical, hoping and resigned. To read it is to be forcibly woken from the middle-class dream."
—Colin Thubron, The Sunday Telegraph (London)
 
"Lewis has created a book of far greater and more lasting significance than any sociological treatise is likely to be . . . a work that eludes classification, for what it tragically and beautifully portrays is not fiction. . . . This book is a classic in the exact sense—it is a standard by which other books of the same kind may be judged, and it is a touchstone for our evaluation of literature and of life itself."
—The Scotsman
 
"Rightly revered. . . . Most participant-observer sociologists (like Robert Coles) owe much to its perceptive author."
—The Globe and Mail (Toronto)
 
"Indeed, both sociology and psychology stand to benefit from a study in which social surroundings and emotional problems are so clearly intertwined."
—Scientific American
 
"Here at last is a social scientist who neither explains poverty nor sits in judgment of it. . . . Whether judged as literature or as sociology The Children of Sánchez is a masterpiece."
—New Statesman
 
"A work of enormous influence and very great beauty. . . . The Children of Sánchez does not need any frame of reference; it is raw material made miraculously available to workers in a host of fields ranging from pure sociology through anthropology to psychology."
—The Sunday Observer
 
"The crime of poverty is exposed in these stories with a precision and immediacy which never destroys the humanity of the individual. . . . We gain in the case of this book, a narrative which is continuously readable and continuously frightening."
—The Sunday Times (London)