Are You Smart Enough to Work at Google?: Trick Questions, Zen-like Riddles, Insanely Difficult Puzzles, and Other Devious Interviewing Techniques You Need to Know to Get a Job Anywhere in the New Economy (Paperback)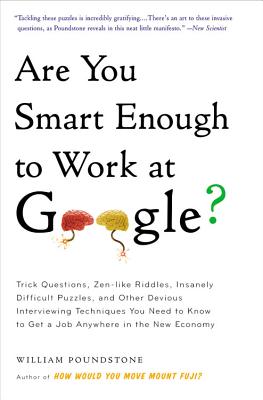 $16.99

Not On Our Shelves—Ships in 1-5 Days
Description
---
You are shrunk to the height of a nickel and thrown in a blender. The blades start moving in 60 seconds. What do you do?

If you want to work at Google, or any of America's best companies, you need to have an answer to this and other puzzling questions. Are You Smart Enough to Work at Google? guides readers through the surprising solutions to dozens of the most challenging interview questions. The book covers the importance of creative thinking, ways to get a leg up on the competition, what your Facebook page says about you, and much more. Are You Smart Enough to Work at Google? is a must-read for anyone who wants to succeed in today's job market.
About the Author
---
William Poundstone is the author of fourteen books -- including Rock Breaks Scissors, Are You Smart Enough to Work at Google?, How Would You Move Mount Fuji?, and Fortune's Formula, which was Amazon Editor's pick for the number one nonfiction book of the year. He has written for the Believer, the Economist, Encyclopaedia Britannica, Esquire, Harper's, Harvard Business Review, the New York Times op-ed page and Book Review, and Village Voice. Follow Poundstone on Twitter (@WPoundstone) and learn more at his website, home.williampoundstone.net
Praise For…
---
"Serious ammunition to pack for your next job interview."
—
Kirkus
,
-
"Poundstone offers strategies for making the best of nerve-racking situations, decoding interviewer's hidden agendas, and salvaging a doomed interview, in a solid treatment peppered with mind-bending puzzles. Poundstone's energetic, compelling writing...makes the book fun even for nonjob seekers."
—
Publishers Weekly
"A neat little manifesto on interview technique...Touring through a huge number of puzzles, he provides a truly exhaustive account of all the factors you're meant to consider when thinking your way through the solutions. Tackling [them] is incredibly gratifying, when you're not withering under the baleful eye of a potential employer."
—
New Scientist Culture Lab
"For those in the job market, Poundstone provides a handy survey of killer questions and how to answer them. For others, he offers the challenge of matching wits with people at America's most innovative companies. As for employers, he presents a timely warning about creative thinking and why job interviews don't work...The format affords Poundstone room to display his scientific knowledge, mathematical fluency and knack for explaining the arcane in playfully precise sentences."
—
Bloomberg Businessweek
"Amusing."
—
Denver Post
"A helpful guide."
—
Christian Science Monitor