The Lifeboat: A Novel (Paperback)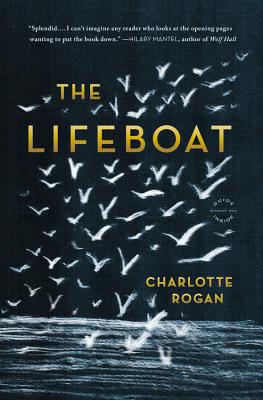 April 2012 Indie Next List
---
"Grace is the 22-year-old narrator of this terrifying, tightly told tale of the sinking of an ocean liner crossing the Atlantic from England in 1914. Few escape onto the small overcrowded lifeboats, Grace being one. With little food and drink, paranoia and power struggles surface, and The Lifeboat becomes a study of human nature and who has a stronger will to survive under extreme conditions. As Rogan writes in the end, 'It was not the sea that was cruel, it was the people.' A brilliant and harrowing story of a struggle for survival as well as a profound look at the complexities of human nature at its core."
— Annie Philbrick, Bank Square Books, Mystic, CT
Description
---
The sinking of an ocean liner leaves a newly married woman battling for survival in this powerful debut novel.

Grace Winter, 22, is both a newlywed and a widow. She is also on trial for her life.

In the summer of 1914, the elegant ocean liner carrying her and her husband Henry across the Atlantic suffers a mysterious explosion. Setting aside his own safety, Henry secures Grace a place in a lifeboat, which the survivors quickly realize is over capacity. For any to live, some must die.

As the castaways battle the elements, and each other, Grace recollects the unorthodox way she and Henry met, and the new life of privilege she thought she'd found. Will she pay any price to keep it?

The Lifeboat is a page-turning novel of hard choices and survival, narrated by a woman as unforgettable and complex as the events she describes.
About the Author
---
Charlotte Rogan studied architecture at Princeton University and worked for a large construction firm before turning to fiction. She is the author of The Lifeboat, which was translated into twenty-six language and nominated for the Guardian First Book Award and the International IMPAC Dublin Literary Award. After many years in Dallas and a year in Johannesburg, she now lives in Westport, Connecticut.
Praise For…
---
"Impressive, harrowing first novel...[Grace] narrates the book with panache - and a good dose of unreliability...Rogan writes viscerally about the desperate condition of the castaway...But it's her portrait of Grace, who is by turns astute, conniving, comic and affecting, that drive the book...As Rogan proves with this indelible character, there's a profound truth and even beauty in Grace's degree of self-loyalty."
—
Sarah Towers, New York Times Book Review
"In her assured debut, Rogan has written a layered and provocative tale of survival and impossible decisions. But her biggest achievement is the disarmingly demure yet fiercely shrewd Grace, a narrator as fascinating and unreliable as they come."
—
Stephan Lee, Entertainment Weekly
"Rogan has written an eerie, powerful debut you'll want to race through, but try to resist the urge. A slower read reveals a psychological depth that'll leave you thinking."
—
Helen Rogan, People
"[Grace Winter is] a gratifyingly complex character who narrates this dazzling psychological drama."
—
Wall Street Journal
"A superb first book...a cunning narrator...A psychological horror story...Rogan paints a vivid picture first of grimly necessary heartlessness...
The Lifeboat
is a tremendously fast-paced read...in a tantalizing turn, Rogan leaves it up to the reader to decide who deserves to walk the proverbial plank, stirring a diabolically fun internal debate. Rogan is a novelist on her maiden voyage, but she steers
The Lifeboat
with a remarkably assured hand."—
Mary Pols, Time
"Rogan manages to distill this drama about what's right and wrong when the answer means life or death into a gripping, confident first novel...Other novels have examined the conscience and guilt of a survivor among the dead, but few tales are as thoughtful and compelling as this."
—
Christina Ianzito, Washington Post
"Beautifully constructed first novel...Rogan crafts a harrowing, suspenseful tale of survival...Grace is a bold and compelling creation, a female protagonist whose humanity is revealed not through her vulnerability but by a cool pragmatism that could have made her repugnant in the hands of a less skilled, sympathetic writer...
The Lifeboat
raises these forever fascinating questions without moral posturing or sentimentality."—
Jocelyn McClurg, USA Today
"A detailed and chokingly graphic novel...Rogan's vivid, aching detail is delivered through Grace's voice. But something else comes through as well, and this, rather than the story itself, is the novel's undermining and deeply unsettling core...The story [Grace] feeds us is mesmerizing, unquestionably believable for the most part, yet poisoned even in its most casual details. But we don't know just where the poison lodges...Rogan has done something more complex. The veil remains; only hints come through; enough to leave the reader - intrigued, yes, and also frustrated - in doubt somewhere short of certainty. And indeed the writer has performed a fictional equivalent to a phenomenon in sub-atomic physics: that observing a phenomenon can make it slip away and alter."
—
Richard Eder, Boston Globe
"
The Lifeboat
is both an enthralling story of survival at sea and a novel that is satisfyingly concerned with the characters of its own storytelling...[
The Lifeboat
]bristles throughout with moral and historical dilemmas that arise from events in the text, and will provide argumentative fodder for book clubs...One hell of a debut."—
Jonathan Raban, New York Review of Books
"Riveting...the narrative stays focused mostly on [Grace's] experience in the boat, the tension deliciously building as the passengers grow hungrier, thirstier, and more desperate."
—
Karen Holt, O, the Oprah Magazine
"Charlotte Rogan uses a deceptively simply narrative of shipwreck and survival to explore our all-too-human capacity for self-deception."
—
J. M. Coetzee
"
The Lifeboat
traps the reader in a story that is exciting at the literal level and brutally moving at the existential: I read it in one go."—
Emma Donoghue, author of Room
"What a splendid book. . . . I can't imagine any reader who looks at the opening pages wanting to put the book down. . . . It's so refreshing to read a book that is ambitious and yet not tricksy, where the author seems to be in command of her material and really on top of her game. It's beautifully controlled and totally believable."
—
Hilary Mantel, author of Wolf Hall
"
The Lifeboat
is a spellbinding and beautifully written novel, one that will keep readers turning pages late into the night. This is storytelling at its best, and I was completely absorbed from beginning to end."—
Tim O'Brien, author of The Things They Carried, In the Lake of the Woods, July, July
"
The Lifeboat
is a richly rewarding novel, psychologically acute and morally complex. It can and should be read on many levels, but it is first and foremost a harrowing tale of survival. And what an irresistible tale it is; terrifying, intense, and, like the ocean in which the shipwrecked characters are cast adrift, profound."—
Valerie Martin, author of Property and The Confessions of Edward Day