We Are Not Free (Hardcover)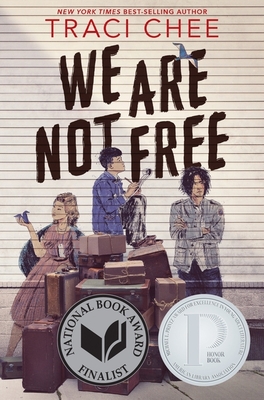 $17.99
In Stock—Click for Locations
Description
---
NATIONAL BOOK AWARD FINALIST

From New York Times best-selling and acclaimed author Traci Chee comes We Are Not Free, the collective account of a tight-knit group of young Nisei, second-generation Japanese American citizens, whose lives are irrevocably changed by the mass U.S. incarcerations of World War II.
 
Fourteen teens who have grown up together in Japantown, San Francisco.
 
Fourteen teens who form a community and a family, as interconnected as they are conflicted.
 
Fourteen teens whose lives are turned upside down when over 100,000 people of Japanese ancestry are removed from their homes and forced into desolate incarceration camps.
 
In a world that seems determined to hate them, these young Nisei must rally together as racism and injustice threaten to pull them apart.
About the Author
---
Traci Chee is a New York Times bestselling author of the YA fantasy trilogy- The Reader, The Speaker, and The Storyteller. Shortlisted and nominated for multiple awards and accolades, Kirkus has also starred each of her previous trilogy titles, a rare accomplishment she shares of such authors as Suzanne Collins, Philip Pullman and Lauren Oliver. Her latest novel, We Are Not Free, was met with four starred reviews. Twitter: @tracichee, Instagram and Facebook: @TraciCheeAuthor, http://www.tracichee.com. 
Praise For…
---
★ "A compelling and transformative story of a tragic period in American history....Each voice is powerful, evoking raw emotions of fear, anger, resentment, uncertainty, grief, pride, and love....An unforgettable must-read.​" —Kirkus, STARRED review

★ "Chee is a master storyteller…. Here, she uses her own San Francisco–based Japanese American family's history to inform a blazing and timely indictment of the incarceration of Japanese Americans during WWII. Her passion and personal involvement combine with her storytelling talents to create a remarkable and deeply moving account of the incarceration…. [We Are Not Free] should become required curriculum reading on a shameful and relevant chapter in U.S. history." —Booklist, STARRED review

★ "The novel may be fiction, but it will be hard for readers not to fall deep into the harsh realities these teens face. The writing is engaging and emotionally charged, allowing the readers to connect with each character...Chee's words are a lot to take in, but necessary and beautiful all the same." —School Library Journal, STARRED review

★ "Inspired by Chee's family history, the book powerfully depicts, as an author's note states, "a mere fraction of what this generation went through." This is an essential contribution to the understanding of the wide-ranging experiences impacting people of Japanese ancestry in the U.S. during WWII."  —Publishers Weekly, STARRED review

"A brilliant and intimate portrayal of several San Francisco teenagers during the mass incarceration of Japanese-Americans in World War II. Chee's nuanced and unforgettable characters will serve to enlighten readers about this devastating and shameful piece of America's past. A beautiful, painful, and necessary work of historical fiction."
—Veera Hiranandani, Newbery Honor winning author of The Night Diary

"Traci Chee masterfully weaves together harrowing truths about the mass incarceration of Japanese and Japanese-Americans during WWII, and features a cast of friends whose honesty, strength, and love for one another will break your heart. With characters who need to have their stories told, and a history that should never be forgotten, WE ARE NOT FREE is powerful, moving, and so incredibly necessary." – Akemi Dawn Bowman, Morris Award Finalist and author of Starfish
 
"These powerful interconnected stories of incarceration during WWII told by Nisei youth will wrap around your heart like barbed wire. With deft touches of humor, heart, pathos, and anger, We Are Not Free by the talented Traci Chee is the best Japanese American incarceration novel I've read. I loved this book that epitomized gaman and will be buying a copy for everyone in my family."
—author Debbi Michiko Florence
 
"This novel is nothing short of a masterpiece. In We Are Not Free, Traci Chee gives us the most comprehensive novelization of the Japanese American internment that I've ever read, without sacrificing the intimate and achingly human individual experience. Traci Chee's characters don't step off the page so much as they shuffle, sashay, and swagger. With them, you will blaze with incandescent rage, crumble with internalized shame, and laugh with true, soul-deep joy. Each individual voice, each individual story is a gem; taken as a whole, they are an unforgettable wonder that you will want to return to again and again."
—Misa Sugiura, author of This Time Will Be Different and It's Not Like It's a Secret, winner of the 2018 APALA Award for YA Literature
 
"A powerful and heartbreaking look into history. In a time when it's integral to remember the failings of our past so that we can ensure we preserve our humanity in the present, Chee brings us a relevant and poignant tale of a group of Japanese-American teens who were forced to feel unwelcome in a country they've always called home. We Are Not Free compels us to face the reality that when fear guides us, our humanity suffers. It's such a testament to Chee's storytelling that she's able to show us the horrors that happened to these Japanese-American teens and still include a thread of hope throughout. I dare you to try to read this book with dry eyes. A must-read book."
—Kat Cho, author of Wicked Fox
 
"A powerful and starkly honest story of identity and home, fear and hope, We Are Not Free is like an emotional punch to the gut."
—Lori M. Lee, author of Forest of Souls
 
"Powerful and illuminating, and as hopeful as it is heartbreaking—one of the best YA books I've read in years."
—Elsie Chapman, author of Caster

"Traci Chee masterfully weaves together harrowing truths about the mass incarceration of Japanese and Japanese-Americans during WWII, and features a cast of friends whose honesty, strength, and love for one another will break your heart. With characters who need to have their stories told, and a history that should never be forgotten, WE ARE NOT FREE is powerful, moving, and so incredibly necessary." – Akemi Dawn Bowman, Morris Award Finalist and author of Starfish