Fossil Hunter: How Mary Anning Changed the Science of Prehistoric Life (Hardcover)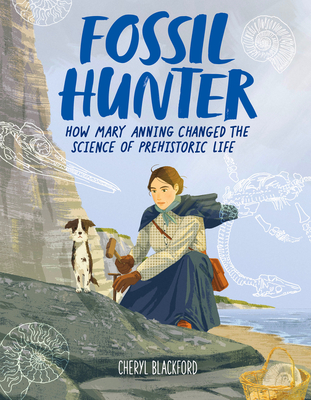 $17.99

Coming Soon—Pre-Order Now
Description
---
"This in-depth, beautifully illustrated biography of Mary Anning sings with the passion and perseverance of the woman herself, who from girlhood on scoured the shifting cliffs of her native Dorset to dig out prehistoric mysteries and make sense of them—altering forever our view of the past." – Joyce Sidman, Newbery Honor winner and Sibert Medal winner

A fascinating, highly visual biography of Mary Anning, the Victorian fossil hunter who changed scientific thinking about prehistoric life and would become one of the most celebrated paleontologists of all time. Perfect for children learning about woman scientists like Ada Lovelace, Jane Goodall, and Katherine Johnson.

Mary Anning grew up in England in a region rich in fossils unearthed by the sea. At the age of twelve, she discovered  England's first ichthyosaur.

Anning would become one of the most celebrated paleontologists ever, though in her time she was a rarely acknowledged, poor woman who supported herself selling fossils. Her findings helped shape scientific thinking about prehistoric life and prove that extinction can occur decades before Darwin discussed evolution.

With engaging text, photographs, and stunning paleoart, The Fossil Hunter introduces this self-taught scientist, now recognized as one of the greatest fossilists the world has ever known.
About the Author
---
Born in Yorkshire, England, Cheryl Blackford developed a passion for fossils and rocks when she was 13 and would
later graduate with a degree in Geology. She has been fossil hunting in Lyme Regis, studied Anning artifacts and archival
materials in Oxford and Bristol. This is her first biography for children. She now lives in Minnesota.
Praise For…
---
"This in-depth, beautifully illustrated biography of Mary Anning sings with the passion and perseverance of the woman herself, who from girlhood on scoured the shifting cliffs of her native Dorset to dig out prehistoric mysteries and make sense of them—altering forever our view of the past." – Joyce Sidman, Newbery Honor winner and Sibert Medal winner
 
"Deftly weaving  in paleontological and geological facts, this riveting account presents an unflinching look at what it meant to be born poor, uneducated, female, and brilliant, at a time when women were denied the opportunity to become scientists.   I couldn't put it down."   –Sarah Albee, NYT bestselling author of Accidental Archeologists and Bugged