We're following all official guidelines to keep ourselves healthy on the job, and as a result, shipping may be delayed.
You will receive an email from our web orders team confirming that your order has been processed.
We thank you for your support and your patience at this challenging time.
The Shades: A Novel (Paperback)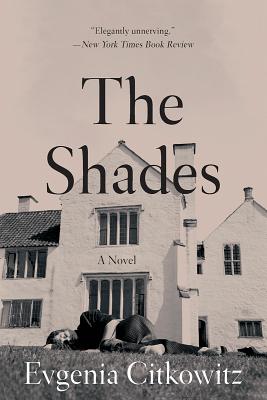 Description
---
"Elegantly unnerving." —New York Times Book Review
A year has passed since Catherine and Michael Hall lost their teenage daughter in a car accident, leaving them and their sixteen-year-old son, Rowan, reeling in the aftermath of the tragedy. Catherine withdraws to Hamdean, the family's apartment in a Georgian country manor, where the mysteries of the past begin to collide with the truth of the present.
About the Author
---
Evgenia Citkowitz was born in New York and educated in London and the United States. Both The Shades and Ether, her debut novella and short story collection, were New York Times Book Review Editors' Choice picks. She lives in Los Angeles.
Praise For…
---
Brilliantly constructed, The Shades is ghostly and alive, cerebral and sensuous, an absolutely riveting read.

— Scott Cheshire

An absorbing book by an author who knows how to create organic suspense without ever overplaying her hand.… Intricately plotted and perfectly paced.… An excellent debut novel that deals heavily with death, but still feels alive, compassionate and full of truths.
— Michael Schaub

A dense, powerful novel.
— Chloe Schama and Bridget Read

When an intriguing young woman turns up at the family's country house and strikes up a relationship with the family's matriarch, Catherine, a mystery is set in motion, lending the firmly contemporary The Shades a quiet echo of such classic psychological thrillers as The Turn of the Screw and Rebecca.

— Julia Vitale and Keziah Weir

This psychological thriller explores the mysteries surrounding a family still reeling from profound tragedy, and the terrifying uncertainty that meets their relocation in a distant country manor.
— David Canfield

This haunted tale follows a couple mourning the loss of their teenage daughter.… [The Shades] harkens back to such ghostly thrillers as du Maurier's Don't Look Back.


If you're looking for a mystery to keep you on the edge of your seat, add this electrifying new novel by Evgenia Citkowitz to your reading list.
— Caroline Rogers

Spare, arresting, and emotionally precise. A thoroughly modern novel with a Gothic feel; a fully realized vision.

[Citkowitz's] prose sparkles as she unpacks emotional wounds.… This compact family drama captures the thinly masked desperation of grief with an eerie undercurrent.

With a deceptively light touch and an almost ethereal atmosphere, debut novelist Citkowitz delves deeply into themes of loss and grief, reality and illusion, and growth and stagnation.… [The Shades] is richly layered with meaning and allusions to myth and art that make it an engaging and rewarding read.