Climbing the Hill: How to Build a Career in Politics and Make a Difference (Paperback)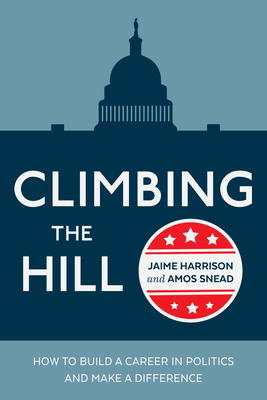 $16.99
In Stock—Click for Locations
Description
---
Inspiring, nonpartisan insider's advice on how anyone can build a career in local, state, and national government, from two rising stars in Washington government and policy.

This inspiring, nonpartisan guide, written by longtime staff members of Republican and Democratic house leadership teams provides all the hard-won secrets and strategies you need to build a career in local politics or Congress, make a difference, and ascend from an internship to leadership. With practical tips on how to not only land a job but also create the foundatio for a lasting and impactful career in public service, this guide will empower anyone who feels the urge to improve this country with meaningful work.
About the Author
---
Before becoming the first African-American chair of the South Carolina Democratic Party, JAIME HARRISON was the director of floor operations and counsel for former House majority whip and current assistant Democratic leader James Clyburn (D-SC). Jaime was named as one of Roll Call's "Fabulous Fifty Movers and Shakers Behind the Scenes on Capitol Hill" and has appeared on CNN and MSNBC. He is currently the Associate Chair and Counselor of the Democratic National Committee.

AMOS SNEAD is a founding partner at S-3 Public Affairs and is a regular guest on Fox News and MSNBC. Amos is a cofounder of FamousDC.com, a daily read for Congressional staff with a monthly reach of 3.2 million. Amos got his start as a press aide for the House Energy and Commerce Committee under chairman Billy Tauzin (R-LA) and chairman Joe Barton (R-TX), then as communications director for congressman Louie Gohmert (R-TX), and later as spokesman for House Republican whip Roy Blunt (R-MO).
Praise For…
---
"At a moment when the news is always full of chaos and people are questioning if work in politics is a noble profession, Climbing the Hill is a valuable guidebook for those whose hearts and minds are in the right place and who want to serve." — KRISTEN SOLTIS ANDERSON, Republican pollster and author of The Selfie Vote

"People come to Capitol Hill to make a difference and improve the lives of the American people. This book is a great blueprint on how anyone, regardless of their background, can make a difference in politics." — NANCY PELOSI, U.S. House Democratic Leader

"Climbing the Hill is a wonderful read for any young person looking to become more involved in public service. Jaime and Amos provide a guide for political involvement and government service for the next generation. Their experiences—and their friendship—show that bipartisanship is alive and well. We can accomplish great things by working together."
— LISA MURKOWSKI, U.S. Senator
 
"What a novel idea: D's and R's can work together to get good things done! Climbing the Hill is idealistic, practical and altogether timely." — GEORGE STEPHANOPOULOS, American journalist and political commentator
 
"In the introduction to my Memoir, Blessed Experiences, I wrote, "all of my experiences have not been pleasant, but I have considered all of them to have been blessings." One of those pleasant experiences was getting to know and work with Jaime Harrison, and the readers of this informative and instructive book will understand why. Jaime is a dedicated and compassionate public servant and the chronicling of his "across the aisle" relationship with Amos Snead demonstrates that very vividly." — JAMES E. CLYBURN, Assistant Democratic Leader

"Amos Snead was an asset to my team, and I have no doubt his insight and guidance will prove invaluable to young people pursuing careers in public service." — ROY BLUNT, U.S. Senator