Task Force (Recon Team Angel #2) (Hardcover)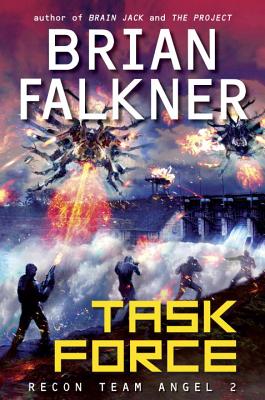 Other Books in Series
This is book number 2 in the Recon Team Angel series.
Description
---
A sci-fi military thriller perfect for kids who love Halo and Call of Duty!
 
They depend on each other. Humanity depends on them.
 
The final invasion is coming. The aliens have massed on the northeastern edge of Russia, waiting to attack as soon as the turbulent waters of the Bering Strait turn to ice. Recon Team Angel must act now.
 
It's up to them to shepherd a task force upriver and infiltrate the aliens' stronghold. They must cripple their enemies quickly and quietly. Luckily, Recon Team Angel was made for such missions. The six teens have been modified to look like aliens. They have spent years mastering alien culture so that they can talk, act—even think—like their enemies. But with their target in sight and time running out, can they save humanity and themselves?
About the Author
---
BRIAN FALKNER, a native New Zealander, now lives in sunny Queensland, Australia. His keen interest in military history inspired the futuristic "history" of theRecon Team Angel books.