More Than Good Intentions: Improving the Ways the World's Poor Borrow, Save, Farm, Learn, and Stay Healthy (Paperback)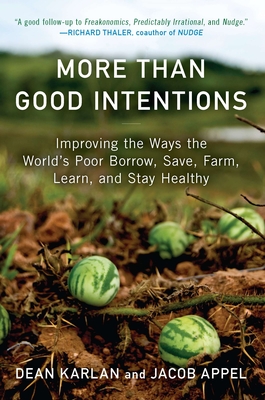 $16.00

Special Order—Subject to Availability
Description
---
A revolutionary approach to poverty that takes human irrationality into account-and unlocks the mystery of making philanthropic spending really work.
American individuals and institutions spent billions of dollars to ease global poverty and accomplished almost nothing. At last we have a realistic way forward. Presenting innovative and successful development interventions around the globe, Dean Karlan and Jacob Appel show how empirical analysis coupled with the latest thinking in behavioral economics can make a profound difference. From Kenya, where teenagers reduced their risk of contracting AIDS by having more unprotected sex with partners their own age, to Mexico, where giving kids a one-dollar deworming pill boosted school attendance better than paying their families to send them, More Than Good Intentions reveals how to invest those billions far more effectively and begin transforming the well-being of the world.
About the Author
---
Dean Karlan is Professor of Economics at Yale University and president of IPA. He lives in New Haven, Connecticut.

Jacob Appel is a field researcher for IPA. He lives in Montclair, New Jersey.
Praise For…
---
"The first half of the twenty-first century will be remembered by historians as the time when the world eliminated much of its poverty. A few geniuses like Dean Karlan will be seen as responsible. Here is a triumph of careful analysis and creative invention over deep problems that have been seen as endemic and hopeless."
-Robert Shiller, Arthur M. Okun Professor of Economics, Yale University, and author of Animal Spirits, The Suprime Solution and Irrational Exuberance

"A page-turner that guides donors to strategies that improve the lives of the world's poorest people. Karlan and Appel lucidly describe the research supporting their findings while demonstrating how psychological "nudges" combine with economic incentives to make the strategies succeed."
-Paul Brest, President, The William and Flora Hewlett Foundation

"Karlan is one of the most creative and prolific young economists in the world. His research lies at the intersection of two of the hottest areas in the field: behavioral economics and development-microfinance . . . . A good follow-up to Freakonomics, Predictably Irrational, and Nudge with a development and poverty spin."
-Richard H. Thaler, coauthor of Nudge

"Dean Karlan is one of the most energetic and enterprising members of a new breed of economists who are trying to fight poverty and change the world, one randomized trial at a time. This book with Jacob Appel conveys not only new and exciting findings from these studies, but also, with its brisk and engaging tone, the sheer joy of search and discovery. An uplifting and stimulating read!"
-Esther Duflo, Abdul Latif Jameel Professor of Poverty Alleviation and Development Economics, Department of Economics, MIT, 2010 John Bates Clark Award winner

"A terrific book for anyone interested in what can really be done about global poverty. Karlan and Appel strike a balance between irrational exuberance for donating money to anything that sounds noble and stern pessimism about any attempt to do good in the world. Here is a clear, workable way forward- described with a compelling, human touch."
-Michael Kremer, Gates Professor of Developing Societies, Harvard University

"Stimulating, breezy, Intellectual; this book has it all. Once I picked up this masterpiece, I found myself opening up a birthday present every time I turned the page. A must read for anyone serious about the most important problems facing humanity today."
-John A. List, Homer J Livingstone Professor of Economics, University of Chicago

"This book wraps a world-changing idea in an immensely readable narrative. If we are going to overcome global poverty, we need more than good intentions, and Dean Karlan and Jacob Appel show us exactly what we need and how to get there."
-Peter Singer, Ira W. Decamp Professor of Bioethics in the University Center for Human Values, Princeton University

"An accessible account of 'the new development economics' based on field experiments and randomized control trials... Valuable, insightful... Anyone interested in a readable discussion of this truly new approach to poverty should pick up this book."
-Tyler Cowen, professor of economics, George Mason University, author of The Age of the Infovore and co-author of the blog marginalrevolution.com

"The most urgent challenge in the world is economic development, and Karlan is right at its cutting edge...An important book-and a captivating one."
-Tim Harford, author of The Undercover Economist and the Dear Economist column at Financial Times

"The types of research that Dean Karlan and his colleagues at Innovations for Poverty Action conduct are critical for helping foundations like the Ford Foundation."
-Frank deGiovanni, Director of Economic Development, Ford Foundation, former Chair of the Executive Committee, Consultative Group to Assist the Poor

"Karlan is one of the world's leading experts on microfinance in developing countries, and he's done pioneering research around the globe. His work smashes old boundaries within economics to answer some of the most pressing issues facing poor countries today. Most of what we know today about how to make microfinance work for the poor flows from Dean's research."
-Edward Miguel, Professor of Economics, U.C. Berkeley

"More Than Good Intentions offers a new way forward in the battle against poverty. It's a data-driven path, but one populated with real-life stories and full of the human spirit. Karlan and Appel call us to be rigorous in our decisions-and we need to listen to them, for the stakes couldn't be higher."
-Jacob Harold, Program Officer, Philanthropy, The William and Flora Hewlett Foundation A

"This wonderful book, by one of the leading combatants, brings us directly to front--lines of the battle for a more reasoned approach to fighting poverty."
-Abhijit Banerjee, the Ford Foundation International Professor of Economics at MIT

"This book invites you to a conversation. The topic could not be more compelling: global poverty. Your partner could not be more fascinating: one of the leading scholars in the world working on it. The result is everything you would hope for."
-Sendhil Mullainathan, Professor of Economics, Harvard University

"Be prepared to have your preconceptions about international development sharply challenged, as Karlan and Appel break down what really works to alleviate poverty."
-Justin Oliver, Executive Director, Center for Microfinance, Chennai, India

"Karlan offers that all-too-rare combination of academic research excellence and its application to international development practice. Karlan is creating a breakthrough."
-Chris Dunford, President of Freedom from Hunger

"Karlan and Appel write that their goal is 'to speak directly to readers, to lead them into some corners of the world they might not otherwise encounter, and bring them face-to-face with the people who populate those places.' They have succeeded admirably, as both advocates and analysts."
-Kirkus