Superfudge: Anniversary Edition (Hardcover)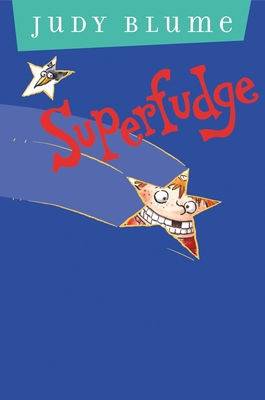 $17.99

Not On Our Shelves—Ships in 1-5 Days
Description
---
He knows a lot of big words, but he doesn't know where babies come from. He's never heard of a stork, but he plans to be a bird when he grows up. He's Superfudge, otherwise known as Farley Drexel Hatcher. And, according to his older brother Peter, the biggest pain ever invented. Among other things.
As fans of Tales of a Fourth Grade Nothing already know, nothing is simple for Peter Hatcher. He is far from overjoyed at the turn the family fortunes are taking. It looks as if Peter will be spending the sixth grade far from Central Park, Sheila Tubman, Jimmy Fargo, and Henry the doorman. (He won't miss Sheila). And it also looks as if Fudge will no longer be the baby of the family. How will Peter ever survive if his new sibling is a carbon copy of Fudge?
But as Fudge fans also know, bad news for Peter generally means good news for Judy Blume's readers—in the form of a very funny story.
They won't be disappointed!
About the Author
---
Judy Blume spent her childhood in Elizabeth, NJ, making up stories inside her head. She has spent her adult years in many places, doing the same thing, only now she writes her stories down on paper. Adults as well as children will recognize such Blume titles as:
Are You There God? It's Me, Margaret
;
Superfudge
;
Blubber
;
Just As Long As We're Together
; and
Forever
. She has also written the best-selling novels
Wifey
;
Smart Women
; and,
Summer Sisters
. More than 75 million copies of her books have been sold, and her work has been translated into twenty-six languages.
She receives thousands of letters each month from readers of all ages who share their feelings and
concerns with her.
Judy received a B.S. in education from New York University in 1961, which named her a Distinguished Alumna in 1996, the same year that American Library Association honored her with the Margaret A. Edwards Award for Lifetime Achievement. She has won more than ninety awards, none more important than those coming directly from her youngest readers.
She serves on the boards of the Author's Guild, currently as Vice President; the Society of Children's Book Writers and Illustrators, where she sponsors an award for contemporary fiction; and the National Coalition Against Censorship, working to protect intellectual freedom. In Spring 2002, Judy was a spokesperson for the Cheerios "A Book for Every Child" literacy campaign which benefited Reading is Fundamental, America's largest literacy organization. She is also the founder and trustee of The Kids Fund, a charitable and educational foundation.
Judy's first book in the Fudge series, Tales of a Fourth Grade Nothing, was published in 1972. She is thrilled to be celebrating its 30th Anniversary with the publication of Double Fudge. Just as generations of fans have loved the Fudge books, generations of Judy's family have inspired them. Thirty years ago, Fudge was inspired by her son, Larry, and now Double Fudge was written at the request of her grandson, Elliot.
Judy lives on islands up and down the East Coast with her husband George Cooper. They have three grown children and one grandchild.
Praise For…
---
Praise for Judy Blume and the Fudge books:

"Each [Fudge book] is packed with wacky earthy disasters that are her trademark and that children love to read about . . . Judy Blume has a knack for knowing what children think about and an honest, highly amusing way of writing about it." —The New York Times
 
"It's a pleasure to watch a talented author like Judy Blume consistently create books that reflect a
remarkable ability for combining humor with perceptive insight into a child's world." —Publishers Weekly
 
"Blume has her eye on the fine details of life, whether funny or frustrating." —Booklist
 
"For anyone who has ever been 'burdened' by a pesky younger brother, there's fast and funny
reading in this story." —Children's Digest on Tales of a Fourth Grade Nothing
 
"As usual, Blume's humor and pitch-perfect ear for sibling rivalry and family dynamics will have readers giggling with recognition. Newcomers and Fudge fans alike will savor this installment in the well-loved series." —Booklist on Double Fudge
 
 "Fudge-a-Mania infects kids with giggles." —BookPage on Fudge-a-Mania