The Vanishing Deep (Hardcover)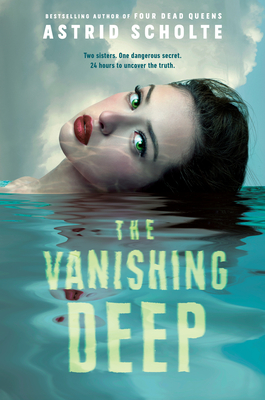 $18.99
In Stock—Click for Locations
Description
---
Bestselling author Astrid Scholte, returns with a thrilling adventure in which the dead can be revived...for a price.

Seventeen-year-old Tempe was born into a world of water. When the Great Waves destroyed her planet five hundred years ago, its people had to learn to survive living on the water, but the ruins of the cities below still called. Tempe dives daily, scavenging the ruins of a bygone era, searching for anything of value to trade for Notes. It isn't food or clothing that she wants to buy, but her dead sister's life. For a price, the research facility on the island of Palindromena will revive the dearly departed for twenty-four hours before returning them to death. It isn't a heartfelt reunion that Tempe is after; she wants answers. Elysea died keeping a terrible secret, one that has ignited an unquenchable fury in Tempe: Her beloved sister was responsible for the death of their parents. Tempe wants to know why.

But once revived, Elysea has other plans. She doesn't want to spend her last day in a cold room accounting for a crime she insists she didn't commit. Elysea wants her freedom and one final glimpse at the life that was stolen from her. She persuades Tempe to break her out of the facility, and they embark on a dangerous journey to discover the truth about their parents' death and mend their broken bond. But they're pursued every step of the way by two Palindromena employees desperate to find them before Elysea's time is up--and before the secret behind the revival process and the true cost of restored life is revealed.
About the Author
---
Raised on a diet of Spielberg, Lucas and Disney, Astrid Scholte knew she wanted to be surrounded by all things fantastical from a young age. She's spent the last ten years working in film, animation and television as both an artist and manager. Career highlights include working on James Cameron's Avatar, Steven Spielberg's The Adventures of Tintin and George Miller's Happy Feet Two. She's a visual writer and aims to capture the vivid stories that play like movies in her head. When she's not writing, she's painting her favorite fictional characters and obliging her furry overlords, Lilo and Mickey. Four Dead Queens is her debut novel.
Praise For…
---
Praise for The Vanishing Deep:

A 2021 Texas Tayshas Reading List Pick
An Apple Most Anticipated Book of Spring 2020

"An immersive, fast-paced story about survival, grief, guilt, and second chances." —School Library Journal

"Tensions [are kept] high as the characters explore a detailed, inventive, lovingly crafted world . . . the narrative's sea legs come through deep, resonant characterizations and the characters' intense emotional inner lives. A seaworthy stand-alone." —Kirkus Reviews

"[In] this fast-paced ecological thriller . . . Scholte builds palpable suspense through Lor and Tempe's alternating narratives while offering timely commentary on sustainability and responsible stewardship of land and sea." —Publishers Weekly

"Scholte's intricate world building stands out from the usual run of post-apocalyptic novels, with a particular emphasis on the effects of a world steeped in overconsumption and an eco-apocalypse. . . Readers will be left with deep questions about personal sacrifice and emotional closure." —The Bulletin of the Center for Children's Books