Clever Hans: The True Story of the Counting, Adding, and Time-Telling Horse (Hardcover)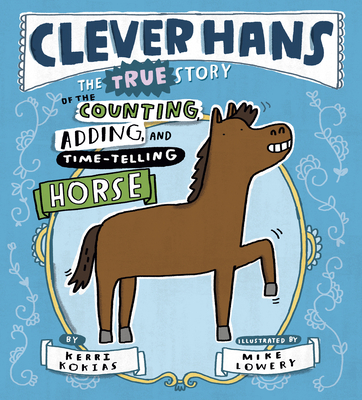 $17.99
In Stock—Click for Locations
Description
---
This true story of the incredible horse whose smarts stumped all of Berlin and changed science reads like a fabulous STEM mystery.

Clever Hans was a horse who could do math problems, tell time, read, spell, and more . . . or could he?

Even after seeing Hans answer questions correctly, some people thought it must be a hoax. Scientists began to investigate. Eventually, one scientist had a groundbreaking "aha!" moment and realized Hans was clever in a way no one had even imagined.

Turns out Hans was so smart, he changed science!
About the Author
---
Kerri's writing features unique structures, playful language, humor, tension, tenderness, simple text, and complicated characters. She has a good vision for how text and art can work together to tell a complete story. Kerri credits most of her story ideas to her "fly on the wall" personality. This means she's both a keen observer of social interactions and a nosey eavesdropper. Kerri lives in Seattle, Washington with her husband, two children, and three dogs.

Mike Lowery is a New York Times Bestselling Illustrator who has worked on dozens of award-winning books for kids including The Gingerbread Man Loose in the School by Laura Murray, Mac B, Kid Spy by Mac Barnett, How to Be A T.Rex by Ryan North and MANY others. He's also written several books, including the Doodle Adventures series of graphic novels for kids and Random Illustrated Facts: A Collection of Curious, Weird, and Totally Not Boring Things to Know which collects his drawings of super-weird and totally true facts.
Praise For…
---
"It all plays out as a rollicking science mystery . . . The text takes an unhurried, reportorial tone, while the thoughtful cartooning portrays Hans himself as downright adorable. Comics-style framing breaks the story into easy-to-grasp chunks, with diagrams, dialogue balloons, and handwritten asides ("Maybe this meant that Clever Hans was a PSYCHIC MIND READER!") that punctuate, nudge, and tickle until the case is cracked—leaving readers feeling a little savvier about the world around them." -Publishers Weekly

"Kokias' clear, accessible tone pairs well with Lowery's cartoon style. The comically smiling horse invites readers in, and intermittent paneled frames help organize the flow of information and visually propel the storytelling arc. Clever, indeed." –Kirkus 

"Kokias' text is a model of lighthearted clarity, laying out how various people tested their theories on Hans' performance. Lowery's cartoons capture the quirkiness of the scientific breakthrough and even add some rudimentary German language lessons in the word-bubble translations in conversations and ads. This is much in the spirit of Meghan McCarthy picture books, and it similarly deftly balances information and cheerful goofiness." -The Bulletin of the Center for Children's Books

"Lowery's one-dimensional cartoon illustrations are playful and bold . . .Budding horse fans, history fans, and science fans will all find something here to pique their interests." –Booklist