No True Believers (Hardcover)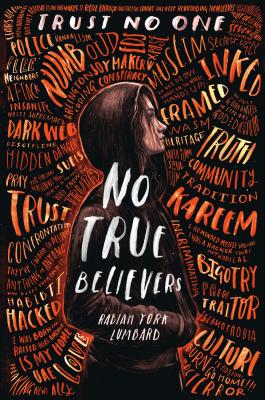 $17.99
In Stock—Click for Locations
Description
---
Fans of the riveting mystery in Courtney Summers's Sadie and the themes of race and religion in Samira Ahmed's Internment will be captivated by this exploration of the intersection of Islamaphobia and white supremacy as an American Muslim teen is forced to confront hatred and hidden danger when she is framed for a terrorist act she did not commit.

Salma Bakkioui has always loved living in her suburban cul-de-sac, with her best friend Mariam next door, and her boyfriend Amir nearby. Then things start to change. Friends start to distance themselves. Mariam's family moves when her father's patients no longer want a Muslim chiropractor. Even trusted teachers look the other way when hostile students threaten Salma at school.

After a terrorist bombing nearby, Islamaphobia tightens its grip around Salma and her family. Shockingly, she and Amir find themselves with few allies as they come under suspicion for the bombing. As Salma starts to investigate who is framing them, she uncovers a deadly secret conspiracy with suspicious ties to her new neighbors--but no one believes her. Salma must use her coding talent, wits, and faith to expose the truth and protect the only home she's ever known--before it's too late.
About the Author
---
Rabiah York Lumbard is an award-winning author of the picture book, The Conference of the Birds. After embracing Islam at the age of eighteen, she earned a BA in Religious Studies from George Washington University and is currently completing her MFA in Creative Writing from Spalding University. No True Believers is Rabiah's deeply-personal debut novel which draws on her own experience as an America Muslim at home and abroad. She lives in Doha with her husband and their three daughters. You can follow her on Twitter and Facebook, or visit her at rabiahyorklumbard.com.
Praise For…
---
"A thriller with a Muslim American teen girl as the hero will give readers a unique character to root for and a reminder that anyone can be patriotic." —Bulletin

"A page-turner that carries a message of radical love, regardless of faith." — Booklist

"Recommended for readers who want a relatable and realistic portrayal of a Muslim teen with the twists and action of a suspenseful thriller" --School Library Journal

"Lumbard's novel succeeds in illuminating fundamental similarities across religions and portraying a harrowing situation that feels contemporary and plausible. --Publishers Weekly