The Watcher in the Shadows (Paperback)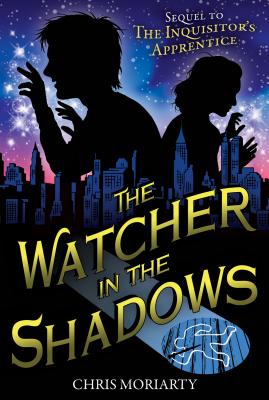 $18.99
Not On Our Shelves—Ships in 1-5 Days
Description
---
At the turn of the twentieth century, New York's Bowery District becomes the scene of a terrible murder when the Klezmer King gets fried to a crisp by his Electric Tuxedo—on stage! The Inquisitor's apprentice, thirteen-year-old Sacha Kessler, tries to help find the killer, but the closer he gets to solving the crime, the more it sounds as if the creature that haunted him in his first adventure is back. Worse still, his own family is in danger. Sacha has avoided learning magic until now, but as his world falls apart around him, he changes his mind.
About the Author
---
Chris Moriarty grew up in New York surrounded by a loud and zany family much like Sacha Kessler's. Chris has published several science fiction novels, including Spin Control, which won the Philip K. Dick Award. She wrote The Inquisitor's Apprentice for her children so that they would be able to read a fantasy that celebrates their New York Jewish heritage. Chris lives in upstate New York.
Mark Edward Geyer is best known as the illustrator of two Stephen King novels: Rose Madder and The Green Mile. Mark has worked in a variety of illustration genres, including corporate advertising, editorial, and architectural. He comes from a long line of artists. Visit his website at www.markedwardgeyer.com.
Praise For…
---
*"Rich language, colorful syntax, vivid description and a brilliant cast of characters beckon readers right into both the adventure and the heartfelt emotional landscape. Exciting, action-packed and absolutely marvelous."
—Kirkus, starred review
*"Although this is full of story, what captivates is the world that Moriarity has created, one where magic is woven into the very fabric. . . . A touch of Chabon, a hiss of steampunk, and a blast of originality."—Booklist, starred review