Ricky Ricotta's Mighty Robot vs. the Uranium Unicorns from Uranus (Ricky Ricotta's Mighty Robot #7) (Paperback)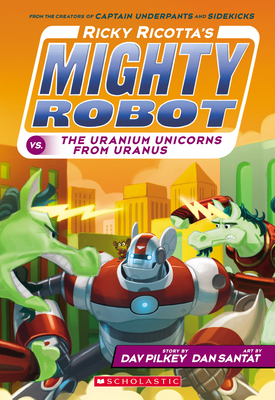 Description
---
From Dav Pilkey, creator of Captain Underpants, and acclaimed artist Dan Santat, a thrilling friendship adventure with all-new full-color illustrations and mini-comics throughout!Having a big best friend isn't always big fun...Ricky Ricotta loves his Mighty Robot. They do everything together, but it's sometimes hard for a small mouse to have such a big buddy! If only the Mighty Robot could find someone his own size to play with, Ricky might finally have some fun by himself.Little does Ricky know, his wish is about to come true. Evil Uncle Unicorn has a top-secret plan to trap the Mighty Robot so that he can take over Earth, and he's got a giant surprise in store. Once again, it's up to Ricky to save the planet -- and his best friend!
About the Author
---
When Dav Pilkey was a kid, he was diagnosed with ADHD and dyslexia. Dav was so disruptive in class that his teachers made him sit out in the hallway every day. Luckily, Dav loved to draw and make up stories. He spent his time in the hallway creating his own original comic books -- the very first adventures of Dog Man and Captain Underpants.
In college, Dav met a teacher who encouraged him to illustrate and write. He won a national competition in 1986 and the prize was the publication of his first book, World War Won. He made many other books before being awarded the 1998 California Young Reader Medal for Dog Breath, which was published in 1994, and in 1997 he won the Caldecott Honor for The Paperboy.
The Adventures of Super Diaper Baby, published in 2002, was the first complete graphic novel spin-off from the Captain Underpants series and appeared at #6 on the USA Today bestseller list for all books, both adult and children's, and was also a New York Times bestseller. It was followed by Super Diaper Baby 2: The Invasion of the Potty Snatchers, also a USA Today bestseller. The unconventional style of these graphic novels is intended to encourage uninhibited creativity in kids.
His stories are semi-autobiographical and explore universal themes that celebrate friendship, tolerance, and the triumph of the good-hearted.
Dav loves to kayak in the Pacific Northwest with his wife.
Praise For…
---
Praise for the Ricky Ricotta series:"This reboot... offer[s] a new generation of readers a fun introduction to chapter books... Newly independent readers and Pilkey fans alike will not be disappointed by the humorous ride." --School Library Journal"Aimed at a younger audience than the wildly popular Captain Underpants books, this series... has all the classic Pilkey hallmarks: comic book panels, superhero action, and flip-o-rama." --Booklist

Praise for the Ricky Ricotta series:"This reboot... offer[s] a new generation of readers a fun introduction to chapter books... Newly independent readers and Pilkey fans alike will not be disappointed by the humorous ride." --School Library Journal"Aimed at a younger audience than the wildly popular Captain Underpants books, this series... has all the classic Pilkey hallmarks: comic book panels, superhero action, and flip-o-rama." --Booklist