Ichiro (Paperback)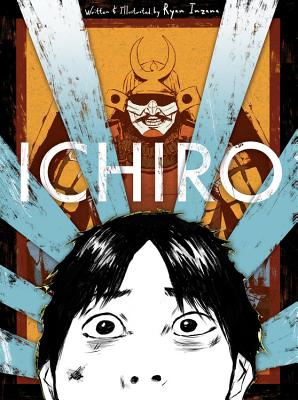 $14.99
Not On Our Shelves—Ships in 1-5 Days
Description
---
Ichiro lives in New York City with his Japanese mother. His father, an American soldier, was killed in Iraq. Now, Ichi's mom has decided they should move back to Japan to live with Ichi's grandfather.
   Grandfather becomes Ichi's tour guide, taking him to temples as well as the Hiroshima Peace Park, where Ichi starts to question the nature of war. After a supernatural encounter with the gods and creatures of Japanese mythology, Ichi must face his fears if he is to get back home. In doing so, he learns about the nature of man, of gods, and of war. He also learns there are no easy answers—for gods or men.

About the Author
---
Ryan Inzana is an illustrator and comic artist whose work has appeared in numerous magazines, ad campaigns, books, and various other media all over the world. Ichiro is his second graphic novel. He lives in New Jersey, with his wife. www.ryaninzana.com.
Praise For…
---
"Beautiful and thought-provoking; questions unanswered will linger in readers' minds."--Kirkus "Inzana uses separate visual styles throughout the book to indicate the human world, the spiritual world, and the shared past which resonates through them both.  While the action is at times chaotic, it is never confusing. The excitement and intensity kept me turning the pages, each one more exciting than the next. I was captivated by Ichiro from the first page.  It kept me guessing and presented me with more ideas and entertainment than I had predicted would come from this book. Make sure you get yourself a copy!"--Stumptown Trade Review"The fluid, expressive brushwork brings the streets of New York City and mythical Japanese creatures to life, allowing the fantastical aspects to be both beautiful and vividly creepy."--Horn Book "Ichiro is a refreshingly honest, well-conceived narrative that is sure to delight, entertain and perhaps educate readers both young and old. Ryan Inzana masterfully integrates a difficult period in history with complicated mythologies and timeless social issues into an enjoyable fantasy adventure. His beautiful black-and-white brushwork is enviable in its fluidity and expressiveness. Whether he's tackling a tender moment between a single mother and her distant son at the dinner table or illustrating mystical battles between gods, his practiced skills shine through with the perfect tone."--Rations Magazine"This is a graphic novel that explores the Asian American experience by blending modern, ancient, and fantastic elements."--School Library Journal"Beautiful, full-color art abounds in the folkloric scenes, which sharply contrast with the black-and-white and occasionally sepia-toned reality of Ichiro's day-to-day activities, in which dashes of bright color punctuate the action. Inzana brings home another powerful post-9/11 fable, directed this time to a younger audience than he targeted with Johnny Jihad (2003). Ichiro asks the hard questions for readers but challenges them to arrive at their own conclusion.."--Booklist "Inzana mixes the mystery with the matter-of-fact in his lively artwork, creating a mood of enlightenment throughout and offering an insight into Japanese culture with a maximum of imagination."--Publishers Weekly "What really makes the book stand out is Inzana's mixed media artwork. It's a lush looking book, with rich details and a very thoughtful handling of the world Ichiro moves through. The book is somewhat broken up visually, with mythology told in full and rich color, while the present day is told in a muted set of greens and the mythological world Ichiro finds himself color coded based on mythology (a subtle nod to Oz, assumedly), an element that makes sense the more you read the book. In one large hardcover book like this, it certainly makes for a beautiful collection of pages. Both the personal storytelling from Inzana and the illustrations go a long way to selling the title, and it's familiar yet new all the same tale of a boy discovering his ancestry amount to quite a wonderful read, and it's certainly an early contender for graphic novel of the year; a compelling story sure to wow and impress on many levels."--Multiversity Comics.com