Las fuentes del silencio (Paperback)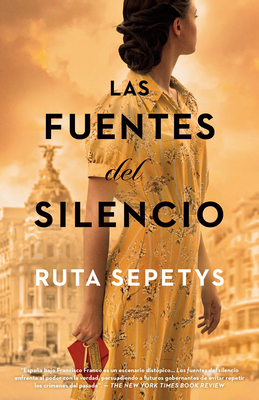 $15.95
In Stock—Click for Locations
Description
---
La autora de Lágrimas en el mar y Entre tonos de gris regresa con un extraordinario y cautivante relato de amor, silencio y secretos situado en la época de la dictadura de Franco en España.
 
Madrid, 1957. Bajo la dictadura fascista del General Francisco Franco, España esconde un oscuro secreto. Entre los empresarios y turistas extranjeros que llegan al país con la acogedora promesa del sol y del buen vino se encuentra Daniel Matheson, hijo de un magnate petrolero de Texas que llega a Madrid con sus padres a los dieciocho años con la esperanza de conocer la patria de su madre a través del lente de su cámara fotográfica. La fotografía—y el destino—lo llevan a conocer a Ana, cuya familia enfrenta obstáculos que revelan las consecuencias de la reciente Guerra Civil Española y las escalofriantes repercusiones de la fortuna y el miedo. Las fotografías de Daniel lo dejan con preguntas incómodas entre acechantes peligros y se ve acorralado, teniendo que tomar decisiones difíciles para proteger a los que ama. Las vidas y los sentimientos acaban enfrentándose, revelando el lado más oscuro de la soleada ciudad de Madrid.
 
La gran narradora Ruta Sepetys vuelve a arrojar luz en uno de los rincones más oscuros de la historia reciente en esta épica y desgarradora novela sobre la identidad, el amor inolvidable, las repercusiones de la guerra y la violencia oculta tras el silencio, inspirada por los conflictos reales de la España en postguerra.
About the Author
---
Ruta Sepetys es una autora aclamada internacionalmente, reconocida por sus novelas de ficción histórica y publicada en más de sesenta países y cuarenta idiomas. Sus libros Entre tonos de gris, El color de los sueños, Lágrimas en el mar y Las fuentes del silencio han ganado o sido nominados a más de cuarenta premios literarios y están incluidos en más de sesenta listas de premios estatales. Entre tonos de gris fue adaptada al cine como Ashes in the Snow, y sus otras novelas están en proceso de desarrollo para cine y televisión.
 
Ganadora de la Medalla Carnegie, Ruta cree apasionadamente en el poder de la historia y la literatura para fomentar la conciencia global y la conectividad y ha hablado de todo ello ante la OTAN, el Parlamento Europeo, el Capitolio estadounidense y en embajadas alrededor del mundo. Ruta nació y creció en Michigan y ahora vive con su familia en Nashville, Tennessee. Síguela en Twitter @RutaSepetys e Instagram @RutaSepetysAuthor.
Praise For…
---
"España bajo Francisco Franco es un escenario distópico… en la romántica y oportuna nueva novela histórica de Ruta Sepetys… Las fuentes del silencio enfrenta al poder con la verdad, persuadiendo a futuros gobernantes que eviten repetir los crímenes del pasado".  –New York Times Book Review
 
"Lleno de giros y revelaciones…una historia excelente y oportuna". —The Wall Street Journal
 
"Una asombrosa historia de amor, pérdida y deshonra nacional". –Entertainment Weekly
 
"[Sepetys] escribe una historia conmovedora, la cual es aún más potente por estar situada en un momento histórico poco conocido. [Una obra] de ficción histórica cautivante, hábil y esclarecedora". –Booklist
 
"Esta cautivante, incluso obsesionante, novela histórica ofrece un retrato memorable de la España fascista". –Publishers Weekly
 
"La rica trama de esta obra de ficción histórica…mantendrá interesados a los lectores, jóvenes y adultos, desde la primera hasta la última página". –SLC
  
"Fascinante…una hazaña ejemplar en ficción histórica". –The Horn Book