The Wreck of the 'Grosvenor' (Paperback)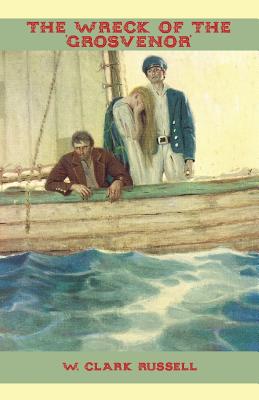 $15.95
Not On Our Shelves—Ships in 1-5 Days
Description
---
The neat ship Grosvenor is fully laden and crewed, and slowly traversing the English Channel, ready to leave on a trading journey to the other side of the Atlantic. Edward Royle has joined as second mate, new to the ship. As they make headway there are rumblings among the crew. Their provisions are rotten: damp, weevilled biscuit and stinking meat.
The Grosvenor's firebrand captain and his tough American first mate won't stand for any interruption to the journey. They falsely indicate to the men that they will stop somewhere en route to take on new provisions. Royle is incensed on the men's behalf. The four survivors of a mid-Atlantic wreck are added to the ship's company at great risk, against the wishes of the mercenary captain, who would have left them to die. One of them, the capable Mary Robertson, quickly gains Royle's admiration.Things rapidly reach boiling point back on the Grosvenor. The mutiny is swift; Royle is forcibly enjoined to run the ship. Most of the crew are desperate to avoid the inevitable punishment - Royle gets wind of their plan to leave him, Mary and her father, the loyal boatswain and the cowardly steward to die in the deliberately holed ship once Royle has guided them near to land at Bermuda. His growing feelings for Mary further invigorate his determination to survive. The scene is set for a great trial against seemingly insurmountable odds.......
W. Clark Russell's The Wreck of the 'Grosvenor' was the most successful novel of mutiny of the Victorian era. His sensitive depiction of the moods of both the sea and the skies, and the technical skill which only a seasoned seafarer could bring to the tale, make for a stirring and realistic spectacle. This moving novel became Russell's signature work.