Struggle for a Continent: The French and Indian Wars: 1689-1763 (Hardcover)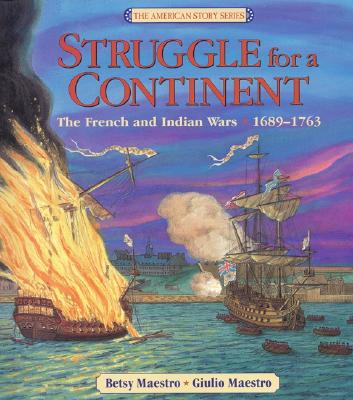 $18.99

Special Order—Subject to Availability
Description
---
As early as 1630, Spain, France, England, and the Netherlands had settlements or colonies in North America. Always looking for ways to expand their territory, these European nations were constantly at war with one another over trade, borders, and religious differences. Beginning in 1689, their conflicts in Europe spread across the Atlantic to America. Over the next seventy years, competing European powers would battle for control of the New World. The winner would take the prize -- all of North America.
Struggle for a Continent tells the riveting story of the French and Indian Wars seventy-four years of fighting that determined the destiny of the future United States.
Notable Children's Trade Books in the Field of Social Studies 2001, National Council for SS & Child. Book Council
About the Author
---
Betsy Maestro is the author of the "American Story" series, illustrated by her husband, Giulio. She has also written several other non-fiction picture books, including the Let's-Read-And-Find-Out science books How Do Apples Grow? and Why Do Leaves Change Color? The Maestros live in Old Lyme, Connecticut.
Giulio Maestro is the illustrator of over 100 children's books. He has also written his own books of word play and has co-authored two I Can Read Books with his son, Marco: What Do You Hear When Cows Sing, and Other Silly Riddles and Geese Find the Missing Piece: School Time Riddle Rhymes. The Maestros live in Old Lyme, CT.