Shelf Life: Stories by the Book (Hardcover)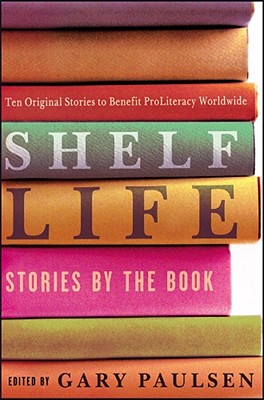 Description
---
Newbery Honor author Gary Paulsen has long been an ardent supporter of books, reading, and literacy programs. To further the cause of ProLiteracy Worldwide, he asked prominent authors to write an original story; the only restriction was that each story was to include mention of a book. The result is this collection, Shelf Life: Stories by the Book. From Jennifer L. Holm's story of a girl on Mars trying desperately to return to Earth to Gregory Maguire's domestic intrigue; from Kathleen Karr's story of a thief in turn-of-the-century Chicago to M. T. Anderson's mysterious shipboard adventure; from A. LaFaye's tale of magical wonderment to Marion Dane Bauer's story of doing good, this volume provides a full range of reading for every taste. Other authors featured here are Joan Bauer, Ellen Conford, Margaret Peterson Haddix, and Ellen Wittlinger.
Sales of this book benefit ProLiteracy Worldwide, an international network with more than 1,400 programs in the United States and 79 partner programs abroad, whose mission is to change lives through literacy.
About the Author
---
Gary Paulsen is one of the most honored writers of contemporary literature for young readers, author of three Newbery Honor titles, Dogsong, Hatchet, and The Winter Room. He has written over 100 books for adults and young readers. He divides his time among Alaska, New Mexico, Minnesota, and the Pacific.