Thomas Destiny (Paperback)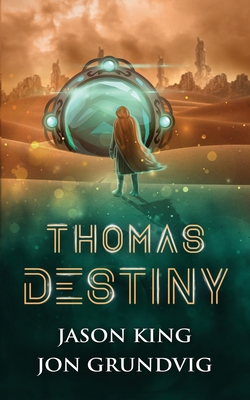 $14.99
Not On Our Shelves—Ships in 1-5 Days
Description
---
Twelve-year-old Thomas doesn't have a dad and so hasn't done much of the camping-fishing thing. But this year he gets to go on his first week-long summer camp, and it's shaping up to be the epic adventure his friends promised it would be...that is until he accidentally releases a demon hidden in a cave behind a waterfall and gets hurled through a dimensional rift.
Lost in an alien world, Thomas pledges to find a powerful shard of creation for the mysterious Dreja (dr-ey-yuh) Lord, Arvek, in exchange for passage back to Earth. At his side are Bruno, a baby giant who eats just about anything and has ambitions to someday taste giraffe. The druid, a robed vagrant who's incessant lying, stealing, and reckless antics continually endanger Thomas and the others. The "Green Dude," an unintelligible shapeshifting blob disguised in a hat and sunglasses. And Darius, a young wizard warrior sworn to fight the growing threat of an ancient evil.
To achieve victory, Thomas and his party of would-be heroes will have to survive a forest infested with wraiths and zombies, scale a lava spewing mountain of fire, traverse a cursed desert, and face the greatest challenge of all: their own woeful incompetence, pointless in-fighting, and an A.D.D.-like tendency to stumble into unnecessary peril. It'll take more than magic, bravery, and sacrifice for this band of misfits to save the Cosmos--it'll take a miracle.