We The People: The United States Constitution Explored and Explained (Hardcover)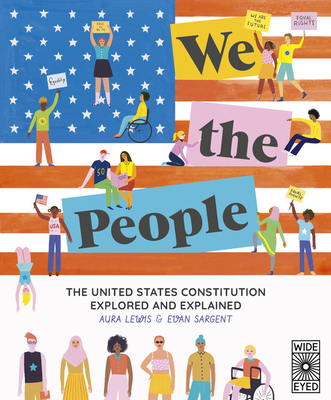 $24.99
Not On Our Shelves—Ships in 1-5 Days
Description
---
"An enlightening addition to upper elementary and middle school collections for its in-depth look at the Constitution and the U.S. government" – 
School Library Journal
See the U.S. Constitution in a new light with this bold, modern and accessible illustrated guide to the document that helped define democracy.
With the
2020 Presidential election
around the corner, there has never been a better time to take a closer look at the Constitution, the bedrock of U.S. politics. Inquisitive minds will have their questions vividly answered – and new ones raised – by a mix of
striking illustrations
and
 clear, engaging text
, including passages from the Constitution given in
plain English
.  
As well as a detailed history covering the
original Constitution
, the
Bill of Rights
and all
Amendments
, discover how this milestone in American democracy shapes and is shaped by the world at large.
We The People
shows that, far from a fusty old piece of paper, the U.S. Constitution is a
living, evolving rulebook
that is as relevant today as it has ever been.
A fresh take on a monumental document, navigating in style its history and its life today.
Excerpts from the Constitution are presented here in plain English to help young thinkers better understand the role it plays in everyday life.
Accessible, energetic text accompanied by contemporary, powerful illustrations allows children aged 10 and older to re-think the Constitution in a totally new way.
A balanced examination that does not shy away from addressing the difficulties of interpreting and adapting the Constitution for the modern world. 
We The People
takes the Constitution out of its display case, blows off the dust and re-imagines this piece of history for the next generation.
About the Author
---
Aura Lewis is an author–illustrator with an MFA from the School of Visual Arts in New York City. She is inspired by fashion and culture from all over the world, playful color, vintage ephemera, and social activism. Aura's books include Gloria's Voice, The Illustrated Feminist, and We The People.
Evan Sargent is an intuitive creative director, strategist, and designer with a knack for seeing the big picture. Her background includes over a decade as an art director and creative director in advertising—more recently, she has become a political activist and community organizer. We The People is her first children's book.
Aura Lewis is an author–illustrator whose distinctive, contemporary artwork aims at awakening the political potential of audiences young and old. Aura's books include Gloria's Voice, The Illustrated Feminist, and We The People.
Praise For…
---
"An engaging introduction to a document that continues to shape American lives."
- Publishers Weekly
"FIVE STARS. I'd give it a million if I could."
- Heather Armstrong, Dooce
"Nuanced and reasonably easy to understand."
- Kirkus Reviews
"An excellent resource."
- J. B. Petty, Booklist
"An enlightening addition to upper elementary and middle school collections for its in-depth look at the Constitution and the U.S. government."
- Molly Dettmann, School Library Journal