The Backup Bunny (Hardcover)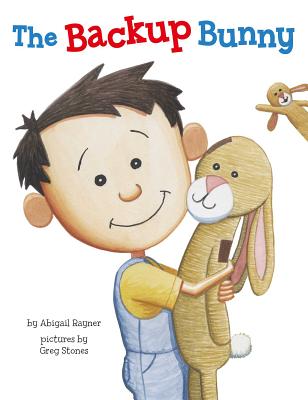 $17.95
In Stock—Click for Locations
Description
---
Everybody needs a backup plan, especially when you lose your favorite toy.

When Max loses his favorite toy—Bunny—his clever mom brings out the "backup bunny"—Fluffy—to save the day. Fluffy is thrilled to have the chance to play with Max, but is soon rejected by the observant child who notices that his ears are too new and perky. Can Fluffy find a way into his favorite boy's heart?

The Backup Bunny will keep you laughing and inspire you to make room for another favorite story.

About the Author
---
Abigail Rayner was born in England where they have lots of history and rain. She spent her childhood visiting castles, picnicking in cars, and getting told off for writing stories during maths. When she grew up, she became a reporter and moved to New York, where she was encouraged to write stories, but not the made-up kind. These days she lives in New Jersey, with her wonderful husband, two brilliant kids, and three terrible cats. She never gets in trouble for writing stories.

Greg Stones majored in studio art at Bates College, where he learned to paint photo-realistically, and was the cartoonist for the school paper. Two years after graduating, be began combining his pretty landscapes with his cartooning skills—adding penguins, zombies, and now bunnies to his work. He is creator of the illustrated book Zombies Hate Stuff.
Praise For…
---
Stones' illustrations depict a wonderfully expressive, long-limbed, floppy-eared stuffed rabbit.
— Vicky Smith

There are many books out there that address the issue outlined in Rayner's book, but none are done quite as sweetly as hers.

The Backup Bunny is a heartwarming story that is sure to become a family favorite! You might even need to keep a Backup Book around just in case!
— Corey Rosen Schwartz, author of The Three Ninja Pigs

"Fluffy directly addresses readers, and his frustration and sadness over being the second, oft-rejected choice will resonate with them..."