Youth to Power: Your Voice and How to Use It (Paperback)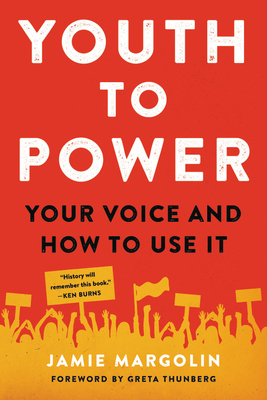 $16.99
In Stock—Click for Locations
Description
---
"Jamie Margolin is among the powerful and inspiring youth activists leading a movement to demand urgent action on the climate crisis. With determined purpose and moral clarity, Jamie is pushing political leaders to develop ambitious plans to confront this existential threat to humanity. Youth To Power is an essential how-to for anyone of any age who feels called to act to protect our planet for future generations."
--- Former Vice President Al Gore
Climate change activist and Zero Hour cofounder Jamie Margolin offers the essential guide to changemaking for young people.
The 1963 Children's March. The 2016 Dakota Access Pipeline protests. March for Our Lives, and School Strike for Climate. What do all these social justice movements have in common?
They were led by passionate, informed, engaged young people.
Jamie Margolin has been organizing and protesting since she was fourteen years old. Now the co-leader of a global climate action movement, she knows better than most how powerful a young person can be. You don't have to be able to vote or hold positions of power to change the world.
In Youth to Power, Jamie presents the essential guide to changemaking, with advice on writing and pitching op-eds, organizing successful events and peaceful protests, time management as a student activist, utilizing social and traditional media to spread a message, and sustaining long-term action. She features interviews with prominent young activists including Tokata Iron Eyes of the #NoDAPL movement and Nupol Kiazolu of the #BlackLivesMatter movement, who give guidance on handling backlash, keeping your mental health a priority, and how to avoid getting taken advantage of.
Jamie walks readers through every step of what effective, healthy, intersectional activism looks like. Young people have a lot to say, and Youth to Power will give you the tools to raise your voice.
About the Author
---
Jamie Margolin is the cofounder of Zero Hour, an organization dedicated to fighting climate change. She lives in Seattle, WA.
Praise For…
---
"Among the many lessons in Jamie Margolin's inspiring manifesto
Youth to Power
is the counsel to 'find your why.' It is the advice of a wise elder in the voice of a young activist. Everyone, young and old, should read this enlightened and engaging call to action. It is a roadmap for a new generation of social activists and perhaps a critical piece of what may save us as a species and a planet. History will remember this book."
—
Ken Burns
"In a time where politics largely ignores young people,
Youth to Power
is a necessary blueprint for those searching to change that reality. It provides us with comprehensive deep dives into the lives of youth activists, revealing the hardships and motivations behind all the work they do."—
Jaclyn Corin
"Jamie Margolin has been on the front lines in the fight to avert climate catastrophe. Whether young or old, please read her account,
Youth to Power
, and be inspired to join the battle."
—
Michael E. Mann, Distinguished Professor, Penn State University and co-author of The Madhouse Effect: How Climate Change Denial Is Threatening Our Planet, Destroying Our Politics, and Driving Us Crazy
"Jamie Margolin is among the powerful and inspiring youth activists leading a movement to demand urgent action on the climate crisis. With determined purpose and moral clarity, Jamie is pushing political leaders to develop ambitious plans to confront this existential threat to humanity.
Youth To Power
is an essential how-to for anyone of any age who feels called to act to protect our planet for future generations."—
Former Vice President Al Gore
"We're at a moment when so many young people want to join in the fight for the future, but too often they feel powerless. Jamie Margolin and her many accomplices provide the sockets to plug into-the (clean) electricity comes pouring through these pages, and anyone who reads them will know what to do to make a real difference."
—
Bill McKibben, founder of 350.org and New York Times bestselling author of Falter: Has the Human Game Begun to Play Itself Out?
"A powerful toolkit for revolution....[Margolin's] tutorials...are concise, easy-to-follow checklists....[She] writes with clarity and maturity...[and] youthful candor....Margolin's book feels inclusive and useful for all ages."
—
Sierra Club
"Essential...provide[s] vital insight into the problems that plague people and the planet, while also offering solutions for a more just future."
—
The Revelator
"An approachable introduction to... advocating for legal and cultural change....Margolin's work speaks directly to the kids who look up to her."
—
New Voices
"Jamie Margolin's
Youth to Power
paves [the] way for change....Youth or adult, this book arrives at a crucial time, serving as a source of empowerment."—
Parentology
"A galvanizing how-to manual instructing other young people about turning their activism dreams into reality. She offers keen, step-by-step advice....Margolin comes across as honest and funny, never trying to be someone she's not....Impressive and insightful....Perfect for young readers looking for a place to start."
—
Booklist
"Margolin has written a one-stop handbook for all aspiring activists....[H]er wisdomgoes beyond a single population or cause....Margolin offers concrete and intentional strategies that give readers immediate, focused, manageable action steps that will help them imagine and achieve meaningful changes....A must-read."
—
Library Journal (starred review)
"Today, everyone has the potential to become an activist, and perhaps in the future, with a little help from Jamie's book, everyone will."
—
PR Future
"Really helpful for our current time."
—
BookRiot
"[A book] to look forward to."
—
Literary Hub
"An essential book by one of the country's most engaging young climate activists."
—
EcoWatch