Basher History: Legendary Creatures (Hardcover)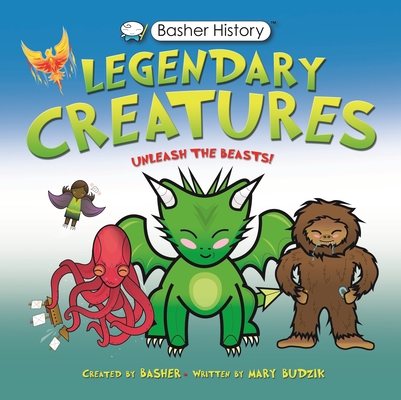 $14.99

Coming Soon—Pre-Order Now
Description
---
From the deepest, darkest depths of the Atlantic Ocean to the cacophonous canopies of the Amazon rain forest, Basher's Legendary Creatures lets you uncover some of the weirdest, creepiest, and most amazing beasts rumored to have roamed the planet.

Featuring well-known creatures like Bigfoot, Mermaids, and Vampires, Legendary Creatures invites you to journey to the forests of Uganda to discover the fierce Ndalawo, a two-toned leopard with a hyena-like cry, or to travel through Mayan ruins, where you might encounter the ominous Camazotz, a night-flying hybrid of man and bat. Basher's distinctive, colorful illustrations bring these magical mythological beings to life, all the while keeping kids in-the-know about the diverse range of folklore across the world.
About the Author
---
Artist and designer Simon Basher has fun playing in the world of contemporary character design. Inspired by a love of simple line work and a rich color palette, his characters fill the gap between edgy manga and the cuteness of Hello Kitty. He lives in England.