DK Readers L4: D-Day Landings: The Story of the Allied Invasion: The Story of the Allied Invasion (DK Readers Level 4) (Paperback)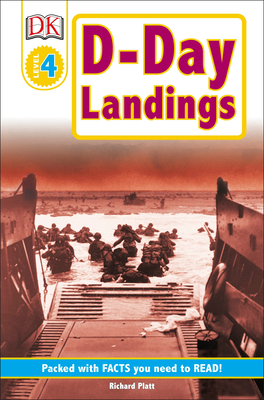 Description
---
How did the Allies plan and execute the most massive and daring invasion in military history? Read all about it in the DK Reader that explains in thrilling detail how the Nazis were defeated on the beaches of France.

DK Readers is a multi-level learning-to-read program combining DK's highly visual style with appealing stories at five graduated levels. Stunning photographs and engaging, age-appropriate stories are guaranteed to capture a child's interest while developing reading skills and general knowledge. DK Readers allow progression of stories for beginning readers with simple sentences and word repetition through to stories with rich vocabulary and more challenging sentence structure for proficient readers.
About the Author
---
Richard Platt began writing in 1983, and has since published more than 100 books specializing in children's nonfiction. His books have won the silver Nestlé Smarties Book Prize and have been shortlisted for the Royal Society Science Book Prize. He is the author of Eyewitness: Film, Castle Diary: The Journal of Tobias Burgess, and Eyewitness: Pirate, among others, and is the coauthor, with Stephen Biesty, of Stephen Biesty's Incredible Cross-Sections.