The Book of Pearl (Hardcover)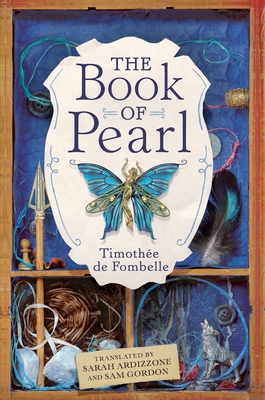 $17.99
In Stock—Click for Locations
Description
---
In prose as magical and intricate as the tale it tells, Timothée de Fombelle delivers an unforgettable story of a first love that defines a lifetime.

Joshua Pearl comes from a world that we no longer believe in — a world of fairy tale. He knows that his great love waits for him there, but he is stuck in an unfamiliar time and place — an old-world marshmallow shop in Paris on the eve of World War II. As his memories begin to fade, Joshua seeks out strange objects: tiny fragments of tales that have already been told, trinkets that might possibly help him prove his own story before his love is lost forever. Sarah Ardizzone and Sam Gordon translate the original French into a work both luminous and layered, enabling Timothée de Fombelle's modern fairy tale to thrum with magic. Brimming with romance and history, mystery and adventure, this ode to the power of memory, storytelling, and love will ensnare any reader's imagination and every reader's heart.
About the Author
---
Timothée de Fombelle is a French playwright and the author of many books, including Toby Alone, Toby and the Secrets of the Tree, Vango, and A Prince Without a Kingdom. He lives with his family in Paris.

Sarah Ardizzone has won several awards for her translation work. She lives in London.

Sam Gordon is a freelance translator based in London.
Praise For…
---
Alternating storylines and narrators challenge and beguile, eventually merging into a masterfully interconnected tale in which compelling themes of revenge, love, and devotion transcend both the fairy world's fantasy and the realism of wartime Paris. A luminous, haunting, intriguingly intricate modern fairy tale.
—Kirkus Reviews (starred review)

French author de Fombelle...has created a hauntingly beautiful story that has the weight and imagination of classic fairy tales by the likes of Grimm and Perrault. Can curses be broken? Can lovers be reunited and return to their home world? Or are they doomed to remain in one where they will always be separated? The answers are slowly and tantalizing revealed in beautifully artful ways, proving that ours, too, can be a world of unforgettable stories.
—Booklist (starred review)

The events of World War II make a surprisingly accurate parallel for lost and broken children looking for remnants of their former lives, while elements of the impossible love story resound beautifully throughout. Fans of Inkheart and Miss Peregrine's Home for Peculiar Children will enjoy this fantastical and romantic book, while the sophisticated language, literary devices, and historical background may make this a fine option for a class book study.
—School Library Journal

The Book of Pearl is a celebration of imagination and the power of storytelling. As it builds each layer of the intricate plot, the book itself becomes part of the magic. It is an absolute must for anyone who has ever loved a fairy tale.
—ForeWord Reviews

De Fombelle's short, abrupt sentences; his vivid combination of settings (from 1940s to current-day France, from the stark fairy kingdom to a decayed Venetian palace); even the namelessness of the narrator make this an irresistible labyrinth of a tale. Most deeply and movingly, the author explores memory, nostalgia, and the power of story to render love immortal. "Life… follows the imagination with fierce loyalty," Pearl is told; the story sets out to prove it.
—The Horn Book

Kids who want to fall hard into a lovely, exceptionally entertaining read will love The Book of Pearl.
—Noozhawk