Out of the Darkness (Hardcover)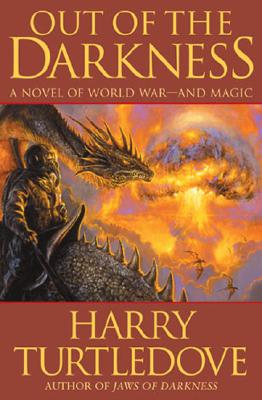 $27.95
Special Order—Subject to Availability
Description
---
Harry Turtledove's rousing saga of a fantastic world at war, which began in "Into the Darkness" and continued through "Darkness Descending, Through the Darkness, Rulers of the Darkness," and "Jaws of Darkness," draws to its climactic conclusion in" Out of the Darkness."
As the Derlavaian War rages into its last and greatest battles, allied nations maneuver for positions against each other in a postwar world. But before that time can come, the forces of Algarve, Unkerlant, and their allies must clash a final time, countering army with army and battle magic with ever-more-powerful battle magic. In the midst of it all, the people the war has battered and reshaped must struggle to face their greatest individual challenges, as loves are shattered and found, terrible crimes avenged . . . and some journeys end forever.
And the end of the war may not bring peace. . . .

About the Author
---
Harry Turtledove is the Hugo-winning author of many SF and fantasy novels. His alternate-history novels, include the bestselling "The Guns of the South, How Few Remain, " the Worldwar series, and the recent" Ruled Britannia." He lives with his wife and daughters in Los Angeles.
Praise For…
---
"Turtledove has proved he can divert his readers to astonishing places...I know I'd follow his imagination almost anywhere."
--San Jose Mercury News
"The author's ability to convey complex abstract issues through strong characterizations sweeps this complicated narrative along ... and he succeeds especially well at portraying inner conflicts caused by hate and pride."
--Publishers Weekly on Out of the Darkness
"Magic and technology provide the trappings for an all too human tale of courage amid chaos.... a good choice for fans of military fantasy."
--Library Journal on Out of the Darkness
"Turtledove skillfully handles the fates of a cast in whose ranks many readers have found friends."
--Booklist on Out of the Darkness