The Horsemen's Gambit: Book Two of Blood of the Southlands (Hardcover)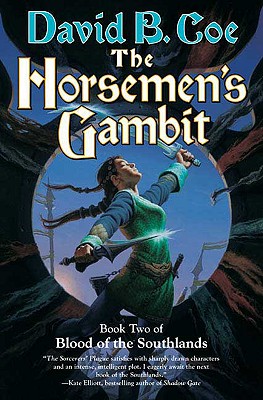 $26.95
Special Order—Subject to Availability
Description
---
David B. Coe created a richly textured, unique world in his Winds of the Forelands, and topped himself with The Sorcerer's Plague, his first novel set in the Southlands of the same world. Divided by clan rivalries and ancient feuds, suspicious of magics wielded by longtime enemies, the folk of the South have lived in a state of truce for generations. But peace is shattered when a woman looses a deadly plague on the magical Qirsi people.

While some people seek to prevent the spread of the plague, others see in this disaster a unique opportunity. With the magical folk weakened by the decimation of the plague, their unmagical enemies might be able to defeat them and take back lands lost in an ancient war. Haunted by the specter of what would be a tragic and devastating new war, the Southlands are aflame with rumors of violence, pestilence, and treachery.

Coe weaves together engagingly complex characters, unique, unusual magic, political intrigue and a compelling, unpredictable story into a captivating epic that will enthrall fantasy readers. A potent brew conjured by a masterful storyteller.
About the Author
---
David B. Coe won the William L. Crawford Award for his first series, The LonTobyn Chronicle. He is also the author of the popular Winds of the Forelands series. He lives in Sewanee, Tennessee.
Praise For…
---
Praise for The Sorcerer's Plague:

"The Sorcerer's Plague satisfies with sharply-drawn characters and an intense, intelligent plot. I eagerly await the next book of the Southlands." —Kate Elliott, bestselling author of Spirit Gate

"Coe's new series is his best yet: appealing characters, twisty plot, and absorbing world."—Sherwood Smith on The Sorcerer's Plague