A Fortress of Grey Ice: Book Two of Sword of Shadows (Mass Market Paperback)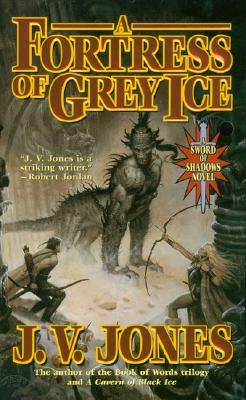 $7.99
Special Order—Subject to Availability
Description
---
"Wonderful . . . J.V. Jones is a striking writer." So says Robert Jordan, the author of The Wheel of Time epic fantasy series. And Jones lives up to that praise in the highly charged epic adventure of Ash March and Raif Sevrance, two outcasts whose fates are entwined by fate and by need, in the cold, dark world that threatens to be torn asunder by a war to end all wars. They are but two of many who fight the dreaded Endlords, but both Ash and Raif are special in unique ways that isolate them, yet which also enable them to perform heroic acts that might save their world.
Raif, wrongly accused and cut off from his clan by the treachery of their new headsman, has a talent for killing that is part of his curse and his burden. But he bears another burden of greater weight. Ash is a sacred warrior to the Sull, an ancient race whose numbers have declined.Raised as a foundling, she never knew her true heritage, she must learn to accept the terrible gifts of her heritage.
But as Ash learns more of her greater fate, Raif's task looms dark and desperate, for he must journey through the nightmare realm of the Want, a place where even the Sull now fear to tread. For deep within the Want is the Fortress of Grey Ice, and there he must heal the breach in the Blindwall that already threatens the world. Should he fail, not even Ash's powers can save them...

About the Author
---
J. V. Jones is the author of the bestselling Book of Words trilogy, "The Barbed Coi," and "A Cavern of Black Ice," the first book of the Sword of Shadows series. Born in England, she now makes her home in San Diego, California, where she's working on the third Sword of Shadows novel, "A Sword from Red Ice."
Praise For…
---
 "Unique and intriguing, and its atmosphere unwaveringly compelling."--Publishers Weekly (Starred Review) "Raif Severance and Ash March ... are becoming one of the more compelling couples in modern high fantasy.... An excellent example of the kind of fantasy in which much of the emotional impact depends on the protagonist couple's relationship."--Booklist "Accomplished storytelling."--Library Journal