Pillar to the Sky: A Novel (Paperback)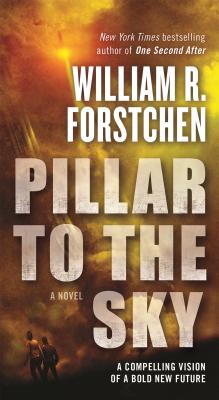 $9.99
Special Order—Subject to Availability
Description
---
Pillar to the Sky is a NASA-inspired work of fiction from William R. Forstchen, author of the New York Times bestseller, One Second After
Skyrocketing oil prices, dwindling energy supplies, and a devastating drought which has led to wars over water threaten the planet. Four people strive to prevent global chaos:
Gary Morgan, a renegade scientist ridiculed for his belief in a space elevator, or pillar to the sky;
Eva Morgan, long obsessed with building a tower to supply cheap, limitless energy derived from the power of the sun;
Erich Rothenberg, who labored to create the first rockets; and
Franklin Smith, an eccentric Silicon Valley billionaire who champions their cause, wages war with Congress and government bureaucracy on their behalf, and, most important, finances their herculean undertaking.
This journey to the stars will not be easy—a tumultuous struggle filled with violence and heroism, love and death, spellbinding beauty and heartbreaking betrayal. The stakes could not be higher. Humanity's salvation hangs in the balance.
This edition of the book is the deluxe, tall rack mass market paperback.
About the Author
---
William R. Forstchen is the author of the New York Times bestseller One Second After and We Look Like Men of War, among numerous other books in diverse subjects ranging from history to science fiction. He has co-authored several books with Newt Gingrich, including Gettysburg: A Novel of the Civil War, Pearl Harbor, Days of Infamy, To Try Men's Souls and Valley Forge. Forstchen holds a Ph.D. in History from Purdue University, with specializations in military history and the history of technology. He is currently a Faculty Fellow and Professor of History at Montreat College, near Asheville North Carolina. He is a pilot and flies an original WWII recon "warbird." He resides near Asheville with his daughter Meghan.
Praise For…
---
"A fascinating, fiercely passionate, razor-sharp thriller." —Douglas Preston, New York Times bestselling author
"A rocketing, rollicking roller coaster of a ride. . . . A great and wonderful read." —David Hagberg, New York Times bestselling author of The Fourth Horseman
"Snappy storytelling that is utterly engaging. The concepts are intriguing—the possibilities endless." —Steve Berry, New York Times bestselling author of The King's Deception