The Rains: A Novel (The Rains Brothers #1) (Hardcover)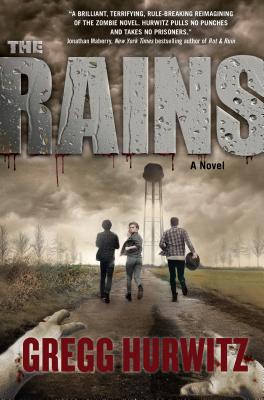 $17.99

Special Order—Subject to Availability
Description
---
Winner of the ITW Thriller Award for Best YA Novel

"A brilliant, terrifying, rule-breaking reimagining of the zombie novel."—Jonathan Maberry, New York Times bestselling author of Rot & Ruin

"One of those all-too-creepy-and-believable stories. Chilling!"—Ridley Pearson, New York Times bestselling author

"Readers with a 5th Wave-shaped hole in their sf-loving hearts will rejoice."—Booklist

"In his first book for teens, Hurwitz crafts a tense, disturbing tale that's simultaneously a story driven by brother love and the determination to survive against impossible odds."—Publishers Weekly

From the New York Times bestselling author of Orphan X and comics in the Batman, Wolverine, and Punisher universes comes this relentlessly thrilling adventure perfect for fans of The Walking Dead and The 5th Wave. A Hollywood screenwriter, developer, and producer (V, The Book of Henry, Black Flags), Gregg Hurwitz brings his cinematic flair to this suspenseful new tale.

In one terrifying night, the peaceful community of Creek's Cause turns into a war zone. No one under the age of eighteen is safe. Chance Rain and his older brother, Patrick, have already fended off multiple attacks from infected adults by the time they arrive at the school where other young survivors are hiding.

Most of the kids they know have been dragged away by once-trusted adults who are now ferocious, inhuman beings. The parasite that transformed them takes hold after people turn eighteen--and Patrick's birthday is only a few days away.

Determined to save Patrick's life and the lives of the remaining kids, the brothers embark on a mission to uncover the truth about the parasites--and what they find is horrifying. Battling an enemy not of this earth, Chance and Patrick become humanity's only hope for salvation.
About the Author
---
GREGG HURWITZ is the New York Times bestselling author of more than a dozen novels, including the #1 international bestseller Orphan X, the first in a series of thrillers featuring Evan Smoak. He has also written young adult novels: The Rains and its sequel, The Last Chance. Hurwitz's books have been shortlisted for numerous literary awards, graced top ten lists, and have been translated into twenty-eight languages.

Hurwitz is also a New York Times bestselling comic book writer, having penned stories for Marvel (Wolverine, The Punisher) and DC (Batman). Additionally, he has written screenplays for many major studios and written, developed, and produced television for various networks.

Hurwitz resides in Los Angeles with two Rhodesian ridgebacks.
Praise For…
---
"A brilliant, terrifying, rule-breaking reimagining of the zombie novel. Hurwitz pulls no punches and takes no prisoners."—Jonathan Maberry, New York Times bestselling author of Rot & Ruin

"Gregg Hurwitz is a writer's writer, fast on his feet, quick with the perfect turn of phrase. The Rains is one of those all-too-creepy-and-believable stories that leaves you looking in your backyard for the next strange weed to poke through the ground. Chilling!"—Ridley Pearson, New York Times bestselling author

"The Rains is a fearsome exploration of survival that turns the horrors of the natural world into our worst nightmares. Readers will hold their breath for the whole adrenaline-packed, terrifying ride. Biological sci-fi at its best."—Lydia Kang, author of Control

"The alien-zombie mashup that science-fiction fans won't want to miss. The novel's ultimate cliffhanger ending is a satisfying conclusion of intrigue and suspense and will leave readers wanting more. Alex, a major character and Patrick's girlfriend, is a blond, white girl and a feminist force to be reckoned with. This zombie-esque sci-fi novel will feed the needs of readers looking for a fast-paced, adrenaline-pumping story with elements of horror."—Kirkus Reviews

"Best-selling author of adult thrillers Hurwitz turns to YA alien invasion in this suspenseful series starter. Modest, hard-working Chance, who narrates through diary entries, worships his lionhearted brother and will do anything to save him; their deeply caring relationship gives the action emotional intensity. Chance's transformation into a determined, selfless hero is well-earned. The aliens' full-scale plan is terrifying and viscerally repellent. Readers with a 5th Wave-shaped hole in their sf-loving hearts will rejoice. Best-seller Hurwitz has proven he knows how to hook an adult audience. Expect his YA debut to have the same effect on teens."—Booklist

"In his first book for teens, Hurwitz crafts a tense, disturbing tale that's simultaneously a story driven by brotherly love and the determination to survive against impossible odds. It's a grim affair, the fight scenes brutal and visceral, and the cliffhanger ending will have readers desperate for answers."—Publishers Weekly