Under the Tuscan Sun: 20th-Anniversary Edition (Paperback)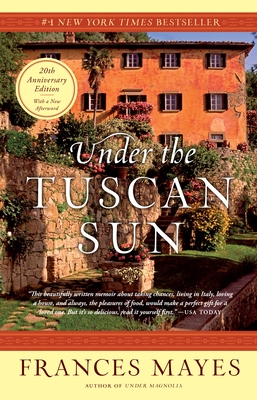 $17.00
In Stock—Click for Locations
Description
---
"This beautifully written memoir about taking chances, living in Italy, loving a house and, always, the pleasures of food, would make a perfect gift for a loved one.  But it's so delicious, read it first yourself."—USA Today
 
The 20th anniversary edition of the classic, updated with a new afterword. Don't miss Frances Mayes in PBS's Dream of Italy: Tuscan Sun Special!   

Twenty years ago, Frances Mayes—widely published poet, gourmet cook, and travel writer—introduced readers to a wondrous new world when she bought and restored an abandoned villa called Bramasole in the spectacular Tuscan countryside. Under the Tuscan inspired generations to embark on their own journeys—whether that be flying to a foreign country in search of themselves, savoring one of the book's dozens of delicious seasonal recipes, or simply being transported by Mayes's signature evocative, sensory language. Now, with a new afterword from the Bard of Tuscany herself, the 20th anniversary edition of Under the Tuscan Sun brings us up-to-date with the book's most beloved characters.
About the Author
---
Frances Mayes is the author of the now-classic Under the Tuscan Sun, which was a New York Times bestseller for more than two and a half years and became a Touchstone movie starring Diane Lane. Other international bestsellers include: Bella Tuscany, Everyday in Tuscany, A Year in the World, and three illustrated books: In Tuscany, Bringing Tuscany Home, and The Tuscan Sun Cookbook. She is also the author of two novels, Swan and Women in Sunlight. She has written six books of poetry and The Discovery of Poetry. The most recent books are See You in the Piazza and Always Italy. Her books have been translated into more than fifty languages.
Praise For…
---
A New York Times Notable Book

"This beautifully written memoir about taking chances, living in Italy. loving a house and, always, the pleasures of food, would make a perfect gift for a loved one.  But it's so delicious, read it first yourself."
—USA Today

"Irresistible...a sensous book for a sensous countryside."
—Minneapolis Star-Tribune

"An intense celebration of what [Mayes] calls 'the voluptuousness of Italian life' . . . appealing and very vivid . . . [The] book seems like the kind of thing you'd tuck into a picnic basket on an August day . . . or better yet, keep handy on the bedside table in the depths of January."
—New York Times Book Review

"Armchair travel at its most enticing."
—Booklist

"Mayes [has] perfect vision. . . . I do not doubt that centuries form now, whoever lives in Bramasole will one day uncover bits of pottery used at Mayes' table. She has, by the sweat of her brow and the strength of her vision, become a layer in the history of this place."
—Los Angeles Times

"After buying a rundown villa in rural Tuscany, the American author Frances Mayes moves to Cortona to renovate the property and learn more about the Italian dolce vita. Her bestselling memoir on her time there paints a vivid description of the town, the people and the lush surrounding countryside of rolling hills and vineyards. A poet and a gourmet cook, Mayes includes a number of chapters on food, replete with classic Italian recipes to further whet the appetite."
—Irish Times